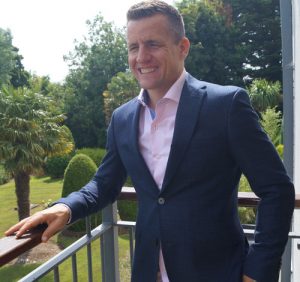 Chris Chidley has been appointed Chief Growth Officer at Compass following a successful 12 months overseeing sales while also running the Compass Group Ireland business, where he will remain in the role of Chair.
Chidley has been in the Compass business for over nine years, with a strong track record in sales as well as operations. Following his successful three-year tenure in Ireland where he brought a great passion for driving community engagement and local sourcing, Chidley, who has now returned to the UK full-time, will be focused on building strategic partnerships to deliver for communities, alongside his growth agenda.
Faced with the impact of the pandemic, Compass has had to transform significantly to support its broad range of clients. This has seen a change in food service delivery models – moving away from traditional practices, with a great focus on innovation and the use of technology. Chidley has been working with the global Compass network to identify best practice and new ways of working.
Commenting on his appointment Chidley said: "We have a compelling offer for clients that enables us to support them across all sectors, whatever their size. Our business is no longer just about food on the plate – it's about the wider eco-system from farm to fork.
"We are prioritising our commitments to Net Zero, diversity and inclusion, as well digital capability and are aligned to what our clients care about, all while working to achieve a best in class customer experience. We have a market leading proposition and the ability to effect real change through the work that we do.
"Heading up the Ireland business was an enormous privilege and I learnt a lot – in particular how the Irish passion for food plays such an important role within the community – with a strong focus on local sourcing. I am excited by the opportunities that exist for our UK & I business."
Robin Mills, Managing Director, Compass Group UK & Ireland added: "I am delighted to appoint Chris to this new role. Having worked in both sales and operations he is well placed to understand how to deliver great results for clients and also identify new market opportunities. He has had a really positive impact on the Irish business, and in his role as Chair of Compass Ireland will continue to support the team and build on what he has achieved to date."
FMJ and Grundon Waste Management have launched the 2021 waste and recycling management survey. It's the fourth year for the annual appraisal of how FMs manage their waste and recycling activities and one which marks an unprecedented period of disruption to services due to the pandemic.
In order to understand how FMs have navigated their way through the last year and their plans for meeting stringent waste and recycling targets we've posed a series of questions – aided by the advice and experience of our editorial steering committee.
The results of the 2021 survey will be published in FMJ magazine and form the basis of a white paper co-written by FMJ and the experts at Grundon on how to approach waste and recycling strategies.
To take part in the survey click here.