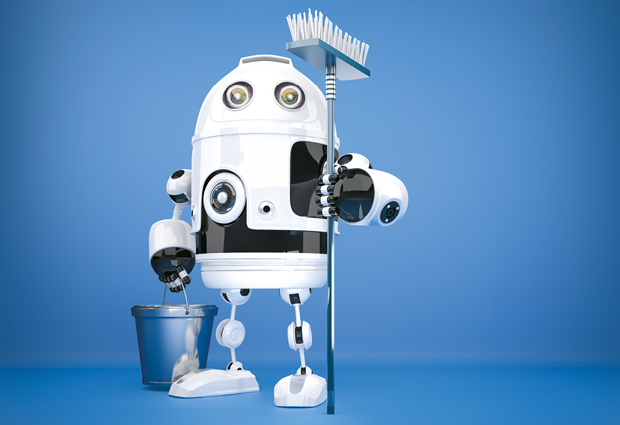 We look at the contribution collaborative robots or 'cobots' can make to efficiency and manpower in cleaning services and how automation is revolutionising how FMs manage their cleaning regimes
Collaborative robots, known as 'cobots', designed to work alongside human employees, have seen a marked surge in use over the past 18 months, with more and more of these autonomous machines deployed alongside cleaning teams. The BCC (British Cleaning Council) has described it as the 'next cleaning revolution' while the Global B2B Floor Cleaning Robots Market Research Report 2021, predicts the global market will grow by 16 per cent between 2021 and 2027, with the UK market forecast to be worth £105 million by 2027.
Julie Kitchener, Head of Customer Service & Marketing at ICE, an independent provider of cleaning equipment says: "It's fair to say that adoption of autonomous cleaning equipment had been slow over the last 10 years, with only a few suppliers in the market. However, this has now dramatically picked up the pace over the last few years with companies starting to understand the benefits that robotic cleaning can bring, and a whole host of robotics suppliers entering the market. We have found that those leading the way with the early adoption of autonomous cleaning equipment have been in retail, healthcare, transport, and education sectors."
Stefano Bensi, General Manager, SoftBank Robotics EMEA says that the availability of cobotics technology is undoubtedly prompting a marked growth in demand from FM service providers.
"Research we carried out in 2020 revealed that innovation is a top business priority for 90 per cent of FM leaders. What's more, 70 per cent of the supply-side organisations we recently surveyed said they are facing increasing pressure from clients to demonstrate innovation."
FM services providers in turn are finding that demand for cobot technology is also increasing as the range, capability and intelligence of the cleaning technology expands.
According to Mauro Ortelli, Managing Director of 14forty: "It's all about choosing the technology that creates efficiency within teams. We can identify which tasks are the most repetitive and time-consuming and then utilise cobots to assist with these, freeing up team members' time to focus on more important and complex responsibilities."
Shaun Robinson, Soft Services Estimating Manager & Cleaning Subject Matter expert for EMCOR UK agrees: "We are finding that as additional types of cobotic equipment are brought to market it is becoming easier and more relevant to integrate cobotic equipment rather than fully autonomous equipment into our cleaning processes for specialised environments.
"This is resulting in significant productivity gains for our onsite teams when we are able to align the correct piece of equipment with the environment we are cleaning."
COLLABORATIVE CLEANING
According to Bensi: "Generally, cobots should undertake the cleaning tasks that are monotonous, dirty or hazardous. This frees up cleaning operatives to concentrate on the higher value and more specialised tasks that they know are important to the customer.
"However, it's important to remember that cobots never really replace humans. Cleaning cobots still need humans to teach them cleaning routes, recharge their batteries, empty them when they're full, and aid them if they get stuck. That's true collaboration."
At EMCOR reports Robinson: "We have found that the main deployment for cobotic cleaning involves floor cleaning tasks where we can use the units to autonomously clean floors enabling employees to carry out other duties such as emptying bins, dusting, polishing and general tidying duties. One of the benefits is that they can work alongside each other at the same time, which some customers find reassuring as there can still be some trepidation about fully autonomous equipment operating without supervision in sensitive environments."
Over the past few years, the dual impact of Brexit and COVID has resulted in a recruitment crisis in the cleaning sector, which means these technological inventions could not have come at a better time argues Johan Venter, MD Cleaning for Atalian Servest.
"As the industry struggles to recruit, technology can be the saviour. This will enable FM providers to channel available physical labour to specific cleaning tasks and cobots can fill the gaps within a cleaning specification."
ICE customer, Stuart Willes – Head of Operations & Facilities, University Hospital Dorset explains why automation has helped his team deal with the recruitment crisis.
"Over the last 18 months or so it has been increasingly difficult to recruit staff as we cannot increase wages as they are designated by national pay spines –
other industries such as hospitality are able to entice cleaners with better hourly rates.
"Healthcare however are left to use agencies, or the essential cleaning tasks get missed. For us exploring the use of autonomous machines ensures that we utilise these machines to do the labour intensive but essential cleaning tasks such as the corridors and back of house areas, leaving the full time employed staff to concentrate on ward and hygienic level cleaning."