Snickers Workwear leads the way in developing responsible Hi-Vis protective wear.
With an extensive range of Jackets, Trousers, Shorts, Toolvests, Shirts and Fleeces for men and women, there's a host of garments in the Snickers Workwear range to satisfy the specific requirements of Class 1, 2 and 3 protection levels.
The requirements of EN standards for wearing high visibility are interwoven with the Snickers Workwear hallmarks of functionality and comfort in all the garments. What's more, the lightweight Repreve® Polyester padding in the NEW AllroundWork Class 2 Hi-Vis padded jacket takes sustainablility in Hi-Vis workwear to a new level.
This world-leading brand of recycled performance fibre combines with the hardwearing polyamide fabric and CORDURA® reinforcements for enhanced durability that's windproof, and warm, while stretch panels ensure optimal mobility.
Developed for craftsmen and women in the road, logistics, facilities and general construction sectors who must stay warm and visible in chilly conditions, like all Snickers Workwear Hi-Vis clothing, its durable, colour-fast protection that will last for wash after wash, retaining shape and comfort.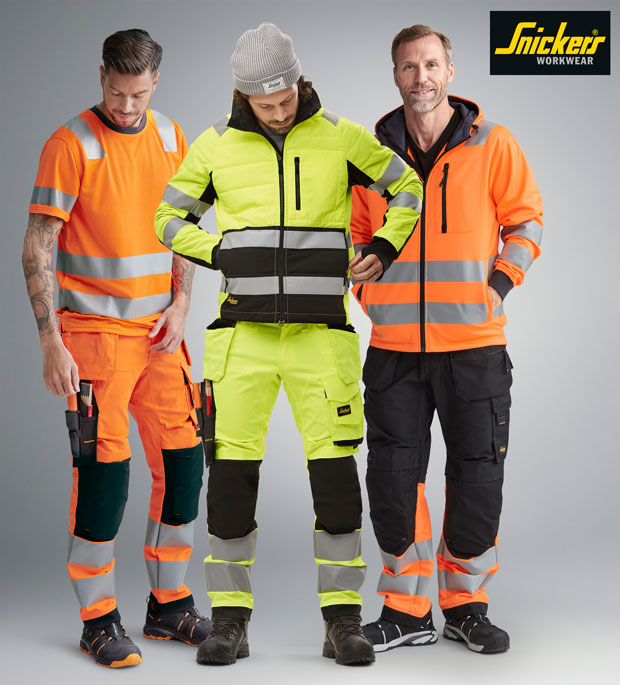 Getting more information on the Snickers Workwear range of ProtecWork and Snickers Workwear Hi-Vis protective wear is easy. You call the Helpline on 01484 854788; check out www.snickersworkwear.co.uk and download a digital catalogue; or you can email info@snickersworkwear.co.uk
-ends-
To have your industry news published in the pages of FMJ's news section, Month in FM, and here online on fmj.co.uk, please send your news and image to Danny Grange danny.grange@kpmmedia.co.uk
The view or information contained within these unedited press releases, are that of the company producing it and not necessary the views of kpm.