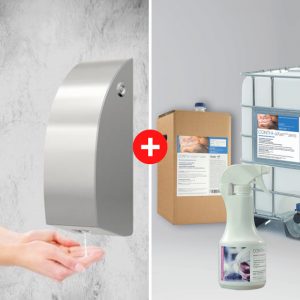 Combining touch-free sensor controlled hand sanitisers with the new CONTI+ oXan disinfection solutions can give building owners and their visitors complete hygiene reassurance whilst allowing easy maintenance utilising our bulk 10l packs.
The launch of CONTI+ oXan brings with it a new way of thinking about disinfection solutions. A simpler, more sustainable way for Estate Managers to keep their entire facility hygienically clean. One system to eliminate bacteria, viruses and pathogens from their water systems and pipework, air conditioning systems, complete room disinfection, surface disinfection and even as a hand sanitiser. Non-toxic and pH neutral so without any damage to plants, skin or cells
Combine with the reliable, sensor-controlled wall mounted and floor standing sanitiser dispensers for a sustainable, long-term solution. Discover the reliability and innovation of CONTI+, contact Paul Musgrove, UK Development Manager.
W: conti.plus
-ends-
To have your industry news published in the pages of FMJ's news section, Month in FM, and here online on fmj.co.uk, please send your news and image to Danny Grange danny.grange@kpmmedia.co.uk
The view or information contained within these unedited press releases, are that of the company producing it and not necessary the views of kpm.