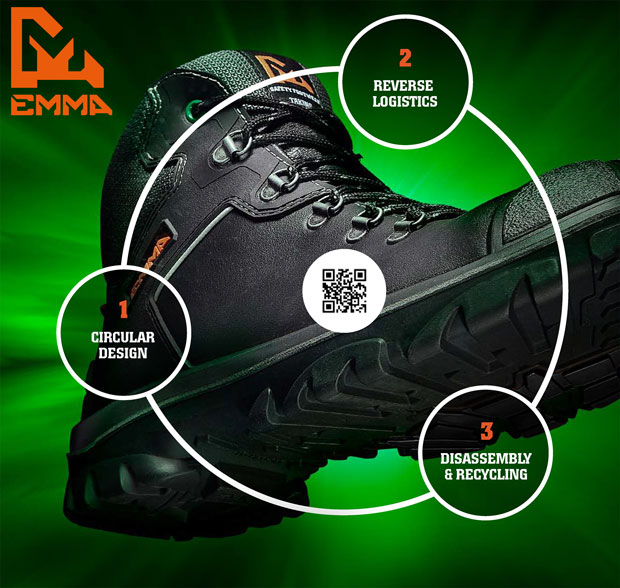 Safety Footwear that's a step ahead in taking the environment seriously.
EMMA is a socially responsible brand that delivers a 100% circular footwear offering that is set to change the way we buy and use safety footwear.
Businesses from all industry sectors, from construction to manufacturing, to logistics, warehousing, office and retail, are making huge strides in sustainability and making bold public commitments to improving their social impact and encouraging their supply chains to do the same.
As part of these efforts, many businesses are embracing the circular economy and looking for opportunities to eliminate waste and find ways to continually use resources. That's where EMMA steps in to be an active part of the corporate sustainability programme.
Every piece of footwear in the EMMA range is made entirely from recycled or recyclable materials. They're safe for the environment with a 100% 'circular' manufacturing, usage-mapping and recycling process for every shoe and boot produced under the EMMA brand.
Part of the Hultafors Group portfolio of market-leading PPE brands, EMMA complements the Solid Gear and Toe Guard safety footwear ranges by including all the Hultafors Group hallmarks of hi-tech designs that combine top quality materials for ultimate comfort, maximum safety and wellbeing at work.
So, to make a positive social impact in your workplace, if your ordinary safety footwear just isn't contributing to your sustainability policy, you can be sure there's an EMMA product that is.
For more information visit www.emmasafetyfootwear.com or email Sales@hultaforsgroup.co.uk
-ends-
To have your industry news published in the pages of FMJ's news section, Month in FM, and here online on fmj.co.uk, please send your news and image to Danny Grange danny.grange@kpmmedia.co.uk
The view or information contained within these unedited press releases, are that of the company producing it and not necessary the views of kpm.