The Coronavirus outbreak has completely changed the way that we work. With 'normality' finally on the horizon, how can flooring in offices adapt to support the new office landscape post-pandemic? Ellen Reith, Segment Marketing Manager for Offices at Forbo Flooring Systems, says floor zoning can help
For the past year and a half, millions of office-based staff around the UK have been working from home as part of measures to tackle the pandemic. As part of the fourth and final stage of the roadmap out of lockdown in England, where all restrictions have been lifted, the working from home guidance has been scrapped. However, while the government is neither advocating for continued home working nor a full return to the office, this means that inevitably, it is down to the employer to make their own decisions about when and how employees may return safely to their offices.
While the office was traditionally somewhere that people went every Monday to Friday to carry out their day job, the pandemic has proven the ability to be productive while working from home. Indeed, research from YouGov and CIPD have indicated that the majority of workers want to continue to work from home for at least some of the time. Therefore, in order to retain productivity and morale, it is likely that the emergence of the hybrid working model – where staff split their time between working in the office and working remotely – will be further embraced, both in the short and long-term.
The adoption of flexible working patterns will force organisations to re-evaluate the purpose and design of the workplace as we know it, as workers will want to come into the office to connect, collaborate and socialise with others. But how can businesses leverage the physical office for these collaborative activities, whilst still allowing flexibility?
REIMAGINING THE OFFICE SPACE
Having been around since the early 2000s, open plan office layouts certainly aren't uncommon. However, this new way of flexible working means that more emphasis will be placed on reimagining the open plan office. For example, allocating fewer desks to individual staff members can free up space in order for it to be repurposed into different defined spaces, otherwise known as zones. This includes informal and relaxed spaces for people to work with their laptops, areas for collaborative team brainstorming sessions, as well as areas for private meetings.
Creating zones within a workplace gives employees the option to work in an area that better reflects what they need to do and what sort of environment they need in order to do it. This can prove pivotal for productivity as workers can move from zone to zone, as their activity and mood fits.
START WITH THE FLOOR
With all of the above in mind, zoning within an open plan office can be easily achieved through the incorporation of floor zoning. This simple technique provides visual partitions in an open space without having to build walls, as floor coverings in different colours, patterns and textures can give visual cues to highlight and separate different working areas.
Carpet tiles for example are synonymous with office buildings as their modular format provides greater flexibility for design, installation and even replacement. Not only do they provide comfort underfoot, but they can also reduce impact sound and improve acoustics within the space, making them ideal for meeting spaces and quiet working zones. With the wide range of options available on the market, there is a solution for every office interior, whether you're looking for contemporary or classic styles, patterns or plains, a feeling of luxury or perhaps a minimalist and timeless feel. By combining colourways, you also have the opportunity to introduce brand colours and therefore reinforce a company identity, which could be particularly appealing in head office environments.
On the other hand, luxury vinyl tiles have the ability to replicate natural wood, stone or concrete floors but without the price tag. The perfect solution for zones that require a sophisticated look and feel, such as in breakout spaces and walkways, high quality LVT is also practical and popular for areas experiencing high footfall, thanks to its proven wear layer for easy cleaning and maintenance, which is vital as staff have the flexibility to move around from zone to zone.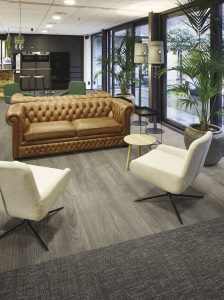 What's more, carpet tiles and LVT can work side by side which makes specification and installation even easier. In fact, choosing LVT with a tackified installation means that the high quality, dimensionally stable tiles can be easily installed alongside carpet tiles, without the need for a transition strip or subfloor build up, as the products are a similar thickness. This enables facilities managers to create an integrated flooring scheme that is functional for the new office landscape, and without any hassle.
It is now widely accepted that the environment in which we work has a direct impact on productivity and morale and the emergence of the hybrid working model means that offices must offer more flexibility than ever before. Giving employees the choice of how and where they work by creating distinct zones in the workplace will ensure that you are getting the most out of them while they are working from the office. And the good news is that FM professionals can work together with flooring suppliers, such as Forbo Flooring Systems, who can offer valuable advice and recommend the most suitable solutions for floor zoning.