With the majority of knowledge workers forced into working from home (WFH) due to COVID-19, how difficult will it be to persuade people to return to the workplace? Do you envisage a mix of home and office working? How will that look and most crucially for FM's what sort of logistical challenges do you see in managing workers based at home and in the office?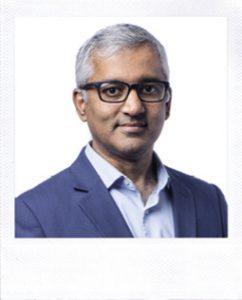 THE CORPORATE REAL ESTATE CONSULTANT'S VIEW
RAJ KRISHNAMURTHY,
CEO, FREESPACE
FM leaders are being called upon to keep people safe and aid business continuity, all while keeping up with the changing workplace guidance associated with this ever-fluid situation. It's therefore encouraging to see facilities, real estate, technology and HR leads working together to meet these objectives by designing and managing workplace strategies with both the short and long-term in mind. This united response to the logistical challenges ahead is one of the ways to gently persuade people that their health and safety is their employer's ultimate priority.
The reduced occupancy levels we'll witness as a result of the phased return to the office will make things easier to manage, particularly the flow of human traffic and the behavioural change piece that goes with it. However, FM teams will be under pressure to add layers of reassurance by addressing the fears of employees and correctly answering a lot of questions in the process.
Floorplans are being reviewed, meeting rooms locked, and one-way flow systems introduced to streamline the return to work. A reconfiguration of desk space is also being evaluated that can support socially distanced occupancy and dedicated use by a single person in one day.
Regardless of space configuration, cleaning must be more frequent, especially on high-contact surfaces such as desks, keyboards and door handles. But simply increasing cleaning frequencies isn't enough to resolve 'hygiene anxiety', plus this tactic will put too much strain on resources. A more targeted and on-demand approach that's visible to employees is required.
Communication is key. Displaying live data relating to cleaned and socially distanced spaces that can be used safely will help nudge people in the right direction. Facilities teams can also use this technology to deliver methodical cleaning practices and reassure occupants by highlighting the preventative infection control measures they are undertaking.
Employers will keep workplaces hygienic and allay people's fears if they communicate the right information, at the right time and to the right level of detail. One of the most effective ways to do this is by providing tools for both employees and FM teams such as mobile apps or digitally enabled signage. We are already seeing an increasing interest in our Cleanreader solution for the FM teams. This hand-held device gets information from anonymous occupancy sensors when a used space is vacated. The device can then be used to "write" on a smart tag in that space indicating that it has been cleaned thereby releasing the space for use. Technologies like the Cleanreader can be complemented with mobile apps that can use the smart tag to check if a space has been cleaned. The Freespace App does exactly this and allows the user to check in to the space so that their contacts can be traced back in case someone in close proximity catches the virus.
FM teams will also have to decide the right approach for common use spaces that cannot be shut down, such as toilets. These spaces provide the right environment for the virus to be transmitted unintentionally. It is critical to ensure that no congestion happens in these areas. Our QUE Manager solution uses anonymous thermal imaging sensors that counts the number of people in an enclosed space and, through a small signage screen at the entrance, warns users if there is a shortage of cubicles. This ensures congestion does not arise in a restricted space thereby reducing the chance of infection.
FMs have an opportunity to embrace technology in the post-COVID era as businesses consider investment strategies. Technology will be demanded by employees who have become comfortable with reliable wireless connections working at home. The last thing a business wants as it reopens its doors is any shortcomings in this area. Sensor based solutions have been maturing over the past five years and are well-positioned to deliver answers to the key questions that will streamline the return to work.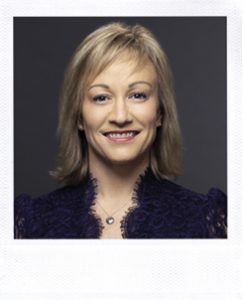 THE CORPORATE WORKPLACE PROVIDER'S VIEW
JULIE ENNIS,
CEO CORPORATE SERVICES, SODEXO UK & IRELAND
Employees now have an expectation that their employers will keep them safe, supporting their physical, mental and emotional health. Businesses were already improving their approach to wellbeing and we work with many companies who have been making changes to put people first. The pandemic has proven it takes much more than the absence of illness for people to feel and perform at their best.
People are more reliant on technology and many have had to become more flexible. Some of these changes are sure to remain after the pandemic, contributing to a significant shift in the long-term future of work.
The COVID-19 crisis has brought cleanliness and hygiene into much sharper focus. Previously unknown terms such as 'social distancing' are now part of everyday language and the habits they describe have become second nature. Cleaning and janitorial services, previously delivered outside traditional working hours, will become more visible to ensure peace of mind and support for employees and visitors.
As the world starts moving again and we consider the implications of that shift, we are beginning to understand how the emerging trends will affect the key areas of workplace experience.
People are connecting virtually and have proved they can work from home, but this doesn't necessarily mean they want to get used to it. Whilst many have enjoyed it, ultimately, as humans we are 'wired for social connection' and just because you can have people working remotely all the time, doesn't mean you should.
Physical office space needs to be adapted so it can foster collaboration in new ways and maintain engagement which we know is so important for an organisation to succeed.
Organisations will depend on employees' willingness to come to the office, so they must be involved in deciding how it looks and works. Previously a Monday to Friday, 9 to 5 routine could be imposed, but employees now need to feel safe and in control of their environment and work schedules.
For many, this control will come from the understanding that much of their work can be carried out remotely, supported by the office as a place that offers something they can't get elsewhere.
A place that embodies the culture of an organisation and helps build a strong and connected work community.
Face-to-face time will be more valuable as it becomes less frequent, so office design will need to safely maximise collaboration and interaction.
Physical workspaces will be critical to the success of companies as we enter the 'next normal'. Far from being replaced by home working habits, they will become critical hubs that support and enhance the human connection we need.
Employers now have an opportunity to adapt the workplace and embrace a truly hybrid work model, focusing even more on people and helping them make the decisions that will lead to the greatest benefits for the individual as well as the organisation.
It is time to really think about how the workplace can better support the business, and we can do this through effective leadership and through using data and technology to optimise space.