Forbo Flooring Systems has launched the second generation of its premium homogeneous vinyl sheet collection, Sphera Energetic. The dynamic new range now consists of four design families, with each one offering an array of beautifully balanced designs to help architects and specifiers create fresh, contemporary interiors, whilst still retaining its exceptional durability properties.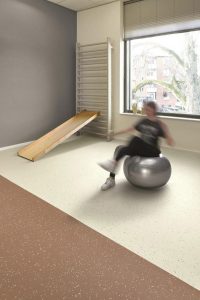 Developed by Forbo's in-house European design team using the latest technology, the revitalised collection comprises four design families: Uni, Vivid, Shimmer and Confetti. Uni is a compendium of 20 trending colours, which feature transparent chips throughout the design to create depth, whilst the bolder, Vivid design is available in 12 vibrant shades comprising colourful chips from the Uni design family – making it easy to seamlessly combine the two together.
Shimmer and Confetti are two brand new designs: Shimmer has a modern terrazzo aesthetic thanks to its angular chips, and – as the name suggests – Confetti is a design that features a mixture of coloured chips from the entire range, providing a playful, random confetti look.
The chips throughout each design add a new dimension to homogeneous vinyl, while also helping to effectively hide dirt in areas where heavy footfall is expected. What's more, the colour palette of the entire range offers high Light Reflectance Value (LRV) ratings, which will help architects and specifiers to maximise light within a building.
Although the designs have been refreshed, Sphera Energetic still retains its impeccable durability characteristics. Thanks to its SMART-top surface protection, it combines excellent stain and scratch resistant properties, with superior appearance retention to ensure the floor looks and performs well for the end users of today and the future.
Lewis Cooper, Marketing Executive at Forbo Flooring Systems commented: "When we launched Sphera back in 2016, the collection quickly became popular – thanks to its ability to inspire creative floor designs. As such, when we decided to refresh the collection, we wanted to make sure that we provided our customers with even more opportunities to create flooring schemes that had the 'wow' factor – and we hope we have achieved this with our four brand new design families. All of the colourways within each family have been developed to work alongside each other, but also with other collections in the Forbo portfolio, such as Eternal general purpose and Step safety sheet vinyl collection, to create a fully integrated flooring scheme."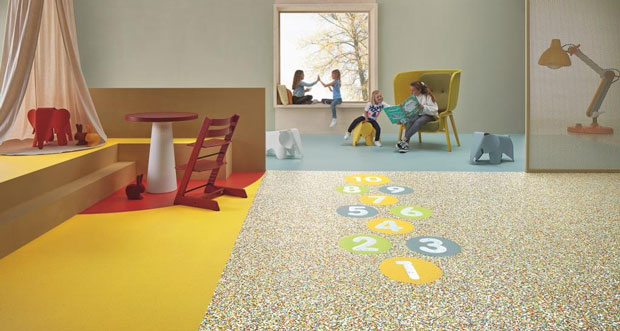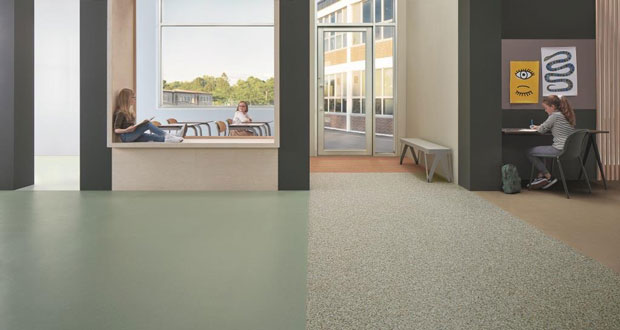 Forbo's new Sphera Energetic collection is manufactured using 100% renewable electricity and with minimal waste, thanks to the company's efficient state-of-the-art production process. In fact, any waste that may be produced is re-used in Forbo's other premium products. The collection also has low emissions and is phthalate free to help contribute to a healthy indoor environment.
Able to withstand heavy traffic, while providing a contemporary aesthetic, Sphera Energetic is the perfect solution for hygienic healthcare environments, inspiring education facilities and flexible multi-purpose public buildings.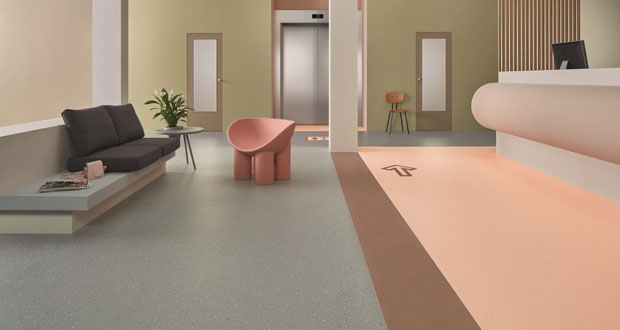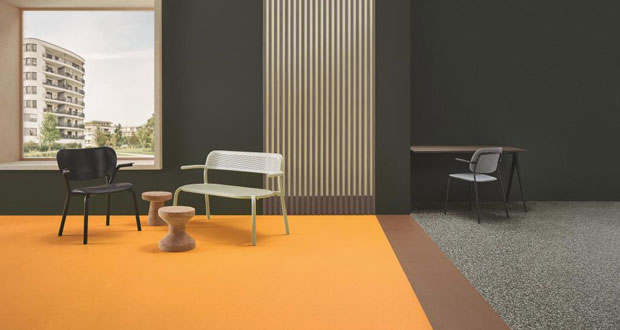 For more information about Sphera Energetic please visit www.forbo-flooring.co.uk/spheraenergetic or for more information about Forbo's integrated portfolio for the education or healthcare sectors, please visit www.forbo-flooring.co.uk/education or www.forbo-flooring.co.uk/healthcare
-ends-
To have your industry news published in the pages of FMJ's news section, Month in FM, and here online on fmj.co.uk, please send your news and image to Danny Grange danny.grange@kpmmedia.co.uk
The view or information contained within these unedited press releases, are that of the company producing it and not necessary the views of kpm.