Since the start of the pandemic, hygiene has become more important than ever, and will play a significant role after COVID. As facilities managers in businesses search for ways to reduce coronavirus risks in the workplace, and with staff starting to return to the office, going contactless is another step to prevent the spread of infection. Hands-free solutions are becoming ever more integrated in our day-to-day world, from payments to access, voice activation and now hygiene.
Make touching waste a thing of the past!
DURABLE's new NO TOUCH Sensor Bins are the contactless solution for offices and communal spaces such as kitchens and bathrooms. Simply wave your hand to open the bin and the lid automatically closes 5 seconds after use. In four different sizes, with capacities from 6 to 35 litres, you are sure to find the perfect size for every environment!
Hands off!
Have you placed sanitising stations around your building to encourage good hygiene and keep everyone safe? Washing and sanitising hands regularly and thoroughly is important, especially when returning to working in close proximity to one another and using the same shared spaces. Ideally choose a dispenser with a lever arm or foot pedal, meaning you don't have to dirty your hands to disinfect!
Durable's range of 3 dispensers offer the perfect solution for your business. Choose between floor-standing and wall-mounted dispensers which can be used with soap or hand sanitiser. The hygienic long lever arm can be operated using the forearm and elbow to prevent the need to use hands!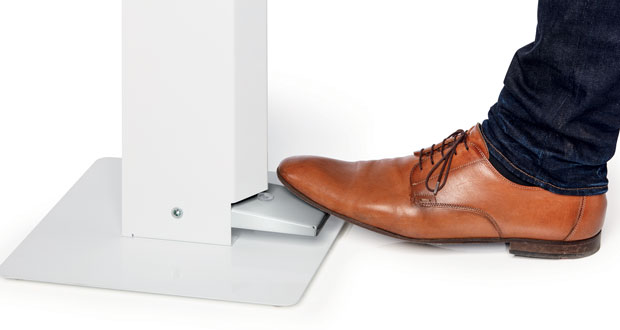 For more information visit https://www.durable-uk.com/homepage.html
– ends-
To have your industry news published in the pages of FMJ's news section, Month in FM, and here online on fmj.co.uk, please send your news and image to Danny Grange danny.grange@kpmmedia.co.uk
The view or information contained within these unedited press releases, are that of the company producing it and not necessary the views of kpm.