Makita has expanded its cleaning range with the launch of the new cordless DVC660Z 36V Backpack Vacuum Cleaner. Powered by Makita's powerful LXT battery platform, the DVC660Z offers operators increased freedom, as well as industry leading run times and a range of additional benefits designed to improve on site productivity.
With the DVC660Z, operators can continue to work without disruption. Its ergonomic and comfortable, cordless design allows operators to manoeuvre around the site with freedom and compared to alternative models, this machine has a much larger dust collection capacity – it can hold 6.0L with a paper dust bag and 5.5L with a cloth dust bag. This is ideal when working across large premises, removing the need to regularly pause work to empty the dust bag.
The machine incorporates a HEPA Filter which traps very fine, microscopic particles and prevents them from recirculating back into the air – ideal for industries that require high air quality such as pharmaceuticals, or where sensitive components are manufactured. This is also useful for sites where building occupants suffer from allergies and respiratory conditions, as these can be improved.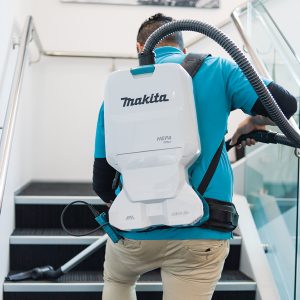 Powered by Makita's twin 18V battery technology, the DVC660Z is a powerful machine with a suction power of between 25W and 95W depending on the power setting. The DVC660Z includes three power settings and a memory mode function, which means the machine will start up in the same power setting as when it was last switched off, making it easy for operators to pick up exactly where they left off.
The inclusion of a brushless motor makes the DVC660Z incredibly durable – as there are no moving parts within the motor causing friction, wear and tear is minimised. This also means that no energy is lost through heat production, keeping the vacuum working for longer. The DVC660Z allows 40 minutes continuous trigger time (using 6.Ah batteries on maximum power) up to 140 minutes (using 6.0Ah batteries on low power), which is ideal when working across larger premises, as operators do not have to regularly stop to replace or recharge the batteries.
The DVC660Z also includes a cleaning mechanism which can be activated manually or triggered by vibrations due to walking, which prevents the dust bag clogging. This improves suction and allowing the bag to fill more efficiently. The Makstar technology incorporates a battery protection circuit, which protects the machine against overloading, over-discharge and over-heating, further reducing the chance of damage.
Andrew Farrell, Special Projects Manager at Makita said: "The DVC660Z has been designed with operator comfort and productivity in mind. The comfortable harness features shoulder and waist belts that can be easily adjusted to suit the operators' size. This minimises fatigue and means that professionals can keep working for longer."
The DVC660Z is part of Makita's wide range of cordless cleaning solutions, designed to ensure that professionals can find the ideal tool for every application.
To find out more please visit: www.makitauk.com, email customerservice@makitauk.com or call 01908 211678.
-ends-
To have your industry news published in the pages of FMJ's news section, Month in FM, and here online on fmj.co.uk, please send your news and image to Danny Grange danny.grange@kpmmedia.co.uk
The view or information contained within these unedited press releases, are that of the company producing it and not necessary the views of kpm.