Q: How important a factor is sustaining wellbeing in the push by organisations to meet Environmental, Social, and Governance factors (ESG)?
The panel agreed that when it comes to meeting ESG, the FM's core remit to achieve compliance remains of huge importance. One said: "We've got huge projects on fire safety management, installing fire doors to meet legislative changes, and ensuring we're keeping people safe."
And this responsibility also applies to the supply chain, as Ferguson explains: "As a supplier we're being asked about what kind of environmental targets we're working towards, including the use of electric vehicles. We've got half of our fleet using EV and are putting the rest on hybrid. We're looking at our whole end to end process as a manufacturer, including the use of solar power and are seeing these sustainable requirements more often when tendering or retendering."
Encouragingly, the rise of ESG is expanding the influence of FMs. One of our FM panellists sits on four steering groups because there are so many links from FM to other areas. "My role is now more strategic because of keeping abreast of other areas; including supporting the voluntary sector for instance, in terms of compliance assistance around their properties."
The pandemic and ESG also means that the silos that used to exist between related disciplines, such as HR or CRE are being breached: "We've been calling for people and place to come together for years, and this puts FM in a place it wasn't in before. If you can use ESG to leverage places on boards then it's to everyone's advantage."
Other ways our panellists are addressing ESG is by organising wellbeing days, where staff can carry out self-health checks, for instance blood pressure checks. Other activities include bringing in local food stallholders to sell a range of street food, which not only encourages staff to come into the workplace, but helps support the local economy.
Q: Does the delivery of workplace sustenance need to be radically rethought to meet the huge change in work patterns?
It was agreed that we need to start with defining what is hybrid, as we won't go back to pre-pandemic styles of working but we need to determine what will take its place. This most felt, appears to be down to each organisation's style of leadership which influence work patterns. A straw poll of our panel revealed that just one organisation was operating on full attendance five days a week, a small number were seeing an average of 60 per cent capacity three days a week and the rest hovered at around 40 per cent.
Hybrid working patterns have of course affected how food and drink services are managed.
Catering facilities became unviable during the pandemic and there was a split between organisations that decided to reinvest in facilities and use them as a way to bring people back to the office, and others who decided it was unviable.
One panellist admitted that as numbers dropped they lost their catering provider and are deciding whether to lease the space to a new provider or instead install a fresh vend offer. "But people are coming around to the idea that you need something, as it's a key part of the workplace offer."
Access to hot and cold drinks remains essential, but as Ferguson explained this varies in how it's provided: "Some clients have more centralised hydration areas in kitchen areas, while others may place taps at the end of a bank of desks. We do see multiple products being installed, so instead of having just one tap they'll have a number as they're used flexibly throughout the day. They're also used as a reason to have that five-minute chat, and get away from the desk, to have a cup of tea or coffee or grab a water."
Q: How can other wellbeing factors such as ventilation, acoustics and lighting increase wellbeing?
FM providers on the panel reported that clients are increasingly asking them to install room sensors to help measure occupancy and air quality. These vendors are also working on research programmes that provide a link between C02 and room ventilation. Many organisations have also installed some fairly sophisticated air filtering equipment. For instance, bipolar ionisation, using filters to clean the air, and UVC systems which clean the surfaces of washrooms and welfare rooms.
When it comes to noise our panel reports that the top two requirements for supporting staff coming back into the office are in creating more collaboration spaces and specific spaces for Teams/Zoom calls. "When it comes to cutting down on desking and increasing collaborative space, we keep in mind the acoustics so include more private booths and smaller telephone rooms. That space where you need to go to do your teams call."
However, a panellist admitted: "Our building is equipped with a lot of hybrid working areas but utilisation is low as most people prefer the convenience of using their desks to have their Teams calls."
Pre-pandemic, some of our panel had already been looking into designing their offices to make sure meeting rooms were in the centre of the building, thus giving staff more access around the parameter to increase their access to natural light. But more recently they've also been "changing from strip lighting to using light panels which seems to make quite a difference".
Outside access became quite the trend during the pandemic and it seems its appeal hasn't dissipated. Many employers have installed roof terraces with pergolas where people can work outside or meet for lunch.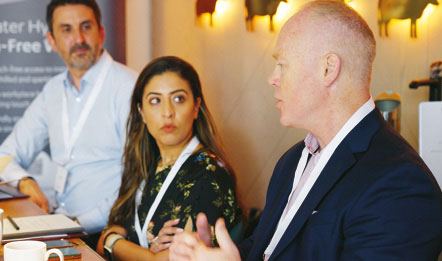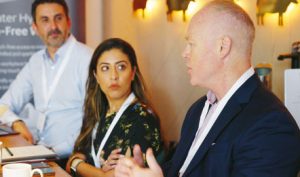 "We can't develop buildings the same way anymore if we want them to come back," said a panellist. "We've got to improve the level of amenities so for example we're providing biophilic solutions, such as green walls to give people a green space. We see it as the only way we'll succeed in the future by being a bit more radical."