Heras – a Dutch company with branches in the UK that designs, manufactures, installs and services permanent and temporary perimeter protection solutions – has welcomed the news that its parent company, Heras Group, has acquired the Danish fencing and security specialist SER Hegn.
The acquisition strengthens the Group's position as a leading European end-to-end supplier of premium perimeter protection. It also enables the UK market to benefit from the group's growing expertise and knowledge as a provider of solutions for business, community and industry sectors.
Country Manager UK, Andrew McMenzie, said that Heras Group continues to expand its portfolio of products and solutions, which broadly falls in to four core areas: demarcation products, entrance control, detection and integrated systems.
"Heras specialises in fencing, railing and welded mesh, entrance control, sliding, swing and bi-fold gates, detection and PIDS – and the acquisition is another big step forward for us as we strive to be recognised as Europe's premium perimeter protection brand," said Mr McMenzie.
"The acquisition of SER Hegn, especially in the middle of a global pandemic, shows the ambition of the company, and it is an exciting time to be part of the Heras Group as it looks to continue its strong growth trajectory based on the core group vales of reliability, commitment and expertise."
Heras Group announced the agreement to acquire Danish perimeter protection specialist SER Hegn in December. The move adds Denmark to Heras group's Nordic operations in Sweden and Norway – giving it substantial market share in the region. With the acquisition of SER Hegn, Heras is set to become the leading supplier of perimeter protection in the Nordic region.
The two organisations have a long-standing relationship as Heras today supplies most of SER Hegn's products and materials. The coming together of the two businesses will trigger growth and efficiency improvements on both sides.
Heras Group CEO Gilles Rabot said: "We are very impressed by the people of SER Hegn, its sales, installation and service organisation in Denmark, which has shown its strength over several years. Bringing the businesses together will give us a clear and leading position in the Nordic region and set up a strong base for further growth."
The Danish operations of SER Hegn: SER Hegn A/S, Moosdorf A/S, Stentoft Hegn A/S and SER Hegn Øst ApS with the current Heras operations in Sweden and Norway will give Heras a substantial position in the Nordic region. This integration of Heras Nordic will be led by the current Managing Director, SER Hegn, Henrik Hallenberg Rasmussen.
SER Hegn Managing Director Henrik Hallenberg Rasmussen said: "Already today we have a significant presence in Denmark with SER Hegn and in Sweden and Norway with Heras. Now we look to improve our businesses and to further grow in the Nordic markets. We want to expand our professional competencies and ensure we deliver the great and consistent customer experience."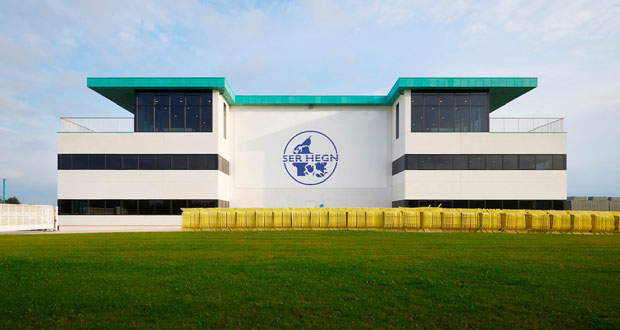 For more information visit www.ser-hegn.dk or www.heras.com
-ends-
To have your industry news published in the pages of FMJ's news section, Month in FM, and here online on fmj.co.uk, please send your news and image to Danny Grange danny.grange@kpmmedia.co.uk
The view or information contained within these unedited press releases, are that of the company producing it and not necessary the views of kpm.