Community is at the core of The Fisheries, a co-working space in London's Hackney. Benugo founder Hugh Warner has applied his background in hospitality to create a place where members have plenty of opportunities to interact
When Hugo Warner (the founder of catering and hospitality brand Benugo) launched a purpose-built co-working space, The Fisheries, near Broadway Market and London Fields in Hackney at the tail end of 2019, he had no idea of the disruption a global pandemic was about to wreak. Yet a combination of a successful background in hospitality and an innate understanding of what occupiers want from their office space have helped him ride the storm and pre-empt a growing demand for flexible 'service as a space' workplaces.
"The Fisheries is the result of an amalgamation of many things I've done in the past," explains Warner. "When I left Benugo I had to find something else to do and I'd noticed how well people got treated if they were working for a corporate player but how badly if they worked for an interesting little company but had to work in a nasty little office where the landlord didn't care.
"I thought, maybe we could create a space where smaller companies come together and share the space to make things more affordable? I was also seeing the way younger people worked, as they'd come into our bars and restaurants and sit there all day with a cappuccino. That was the only option if you didn't have an office and not much fun."
The Fisheries is based in London's Hackney area, which is home to Warner and his family and its interiors is described by Warner as 'Hackney Heritage,' being inspired by Hackney's creative and eclectic reputation. Described initially as a 'hotel for workers' the project, which took seven years to complete joins a small Victorian warehouse to a newly constructed building on the original site of R. Green Fisheries – from which the building derives its name.
Sustainability was a big factor in the design and resulted in the Fisheries receiving a BREAM excellent rating for building sustainability.
Says Warner: "The retrofitting of these older buildings is important and as we had to underpin the whole of the old building, we created a basement underneath it to house many of the things we'd need for environmental reasons. For instance, rainwater harvest means all our toilets flush using rainwater and all our plants are watered using rainwater.
"The building is also well insulated. We use Photovoltaic PV Panels to provide electricity from the sun and air source heat pumps and locally sourced produce for our weekly workers lunch to the coffee we provide."
WORK ENVIRONMENT
The finished site comprises 32 flats above a work space which is flooded with light and filled with greenery. There is a wide choice of work spaces, along with a variety of differently styled break out areas scattered all around the building. There are two communal kitchens, bathroom and shower facilities, indoor bike storage, a podcast studio, a photo studio and an events space called The Green Room, offering a fully equipped kitchen to host supper clubs, charity events, members gatherings, training and presentations.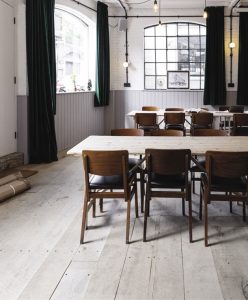 The workspaces are spread over three floors with each area layered to feel like you are walking into a different room, making it easy for occupants to find the right space to suit their mood. Talking to some of the occupants it's clear they take advantage of these options. I spoke to one occupant who said that after they'd completed some necessary admin work they had moved to a different space to help with their creative process.
This approach is no accident. Warner's background in creating award-winning high street stores, concessions for public spaces such as The British Museum, BFI and Edinburgh Castle and some of the world's largest and most respected corporate organisations has taught him quite a few things about creating a welcoming space.
He says: "The workplace has always been changing and the open plan office is fine but it is still incredibly formal and regimented and the idea of sticking in a plant and funky furniture isn't the answer. Here, the look and feel is because I like this design, but what makes the Fisheries what it is – is the culture around what we believe what work really is.
"My understanding of this business is that it's not about the management of facilities, it's more about taking care of people. The only purpose of any facilities is to make you feel good and happy and if you don't deliver those things, what's the point? This space is not about ping pong and joy slides, it's more about creating a hubbub of a space and actually creating an environment where people want to be here."
Occupation is based on desk bookings with a choice of community or 'hot desks' available as a monthly rolling contract or as a shoal of 10 days. Dedicated desks are aimed at those looking for a more permanent workspace and offer users a large desk, free meeting rooms and a locker. For companies which want to base their people in a team setting, there is a range of customisable office spaces which can accommodate two to 20 people.
Given that the spaces are fully booked at the moment, workers do indeed want to be there, and apart from the early days of the first lockdown, Warner reports that many occupants preferred coming to the Fisheries as they feel safe and comfortable.
"We've 400 desks, but don't ever expect to have 400 people booked at one time, so we work on 80 per cent which is our target. You get turnaround, but my view is we're very happy with 80 per cent and you may go up and down a bit or get a crossover month. I'd have the same view in a restaurant, you never want full occupancy as you might not be able to provide the highest level of service."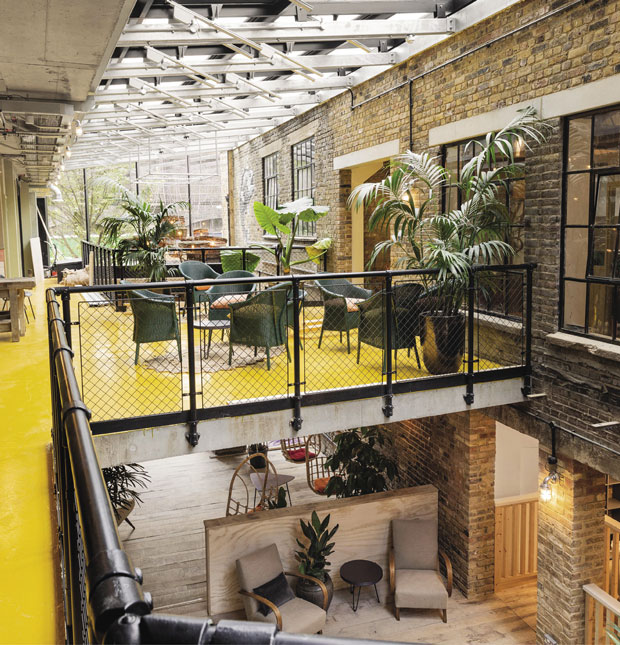 Tagged with: case study co-working space Hugh Warner The Fisheries