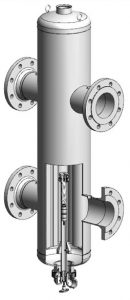 Spirotech has improved the dry pocket of the magnetic dirt separator in its steel SpiroTrap and SpiroCombi units, making them even easier to maintain.
The magnetic dirt separators automatically extract dirt (magnetite) from system water in cooling and heating systems, preventing losses in efficiency over their service life.
For the improved dry pocket, a 360-degree rotatable drainage tap has been added to a new immersion tube, which makes it easier for installers to position the tap in the direction of a drain.
In addition, the guiding mechanism for the pull cord insert used to remove the magnetic dirt has also been improved, making it less likely to become damaged. Both improvements enhance ease of maintenance.
The improved steel SpiroTrap and SpiroCombi models are for commercial applications and are available now. While the SpiroTrap is purely a dirt separator, the SpiroCombi is also a deaerator, removing circulating air and microbubbles as well as dirt.

Rob Jacques, Spirotech's National Key Accounts and Technical Sales Manager, said: "Optimal hydraulic balancing is essential for maximising the yield of modern energy-efficient heating and cooling systems. These improvements to the dry pocket will help installers to keep the system working at its most efficient by enhancing the ease of maintenance."
Commercial heating and cooling systems only perform to maximum capacity when the air and dirt are regularly removed from the system water.
After a period, free air and air bubbles cause corrosion and oxidation, while dirt and other contaminants disrupt the flow.
This causes heating and cooling systems to operate less efficiently, which in turn increases energy consumption.
For more information on Spirotech's range of water treatment and system protection products, please visit www.spirotech.co.uk.
-ends-
To have your industry news published in the pages of FMJ's news section, Month in FM, and here online on fmj.co.uk, please send your news and image to Danny Grange danny.grange@kpmmedia.co.uk
The view or information contained within these unedited press releases, are that of the company producing it and not necessary the views of kpm.