Sara Bean hears how LGIM is working with Bellrock to deliver a new innovative FM integrator model across its UK investment portfolio which aims to help establish it as the property owner of choice
There can often be a challenging relationship between property managers and facilities managers. With the former more concerned with a building as a physical asset, and the latter focused on the people using the space. PMs tend to put emphasis on the assets part of the equation, which can leave FMs feeling they're relegated to 'the boiler room' with little opportunity to contribute to the strategic vision.
Mark Tyson, Head of Property Operations at LGIM Real Assets, has long championed the use of data to measure service delivery, in order to build the user experience and how it demonstrates the strategic role played by FMs in improving performance. At LGIM Real Assets, one of the largest private market's investment managers in the UK, he's taken that thinking and successfully applied it to the managing agent model.
This resulted in the appointment of workplace solutions provider Bellrock, to deliver a new data led FM Integrator 'Mercury Model' across LGIM Real Assets' UK investment portfolio, which covers 142 properties, including 32 multi-let offices, over 1,000 occupiers and more than £30 million per annum of managed supply chain service. This has resulted in the delivery of a truly strategic programme which puts FMs into equal partnership with managing agents. This initiative is not only driving service delivery but meets a variety of strategic targets – including sustainability, health & wellbeing, lease management objectives and the social value of assets in local communities.
Tyson explains: "I feel quite lucky really because I've had the opportunity to create something very different. I had a background in FM at Mitie and then worked at Capita as a managing agent and the brief from LGIM was 'reimagine the managing agent model to put the occupier at the centre of what we do and establish L&G as the property owner of choice in a rapidly changing market.'"
One disadvantage he notes about the prevailing managing agent model is that it's often the managing agent who is perceived as the owner of the building – which doesn't help promote the brand of the asset holder. In addition, if a managing agent is running assets worth millions of pounds, decisions may have to go through layers of management before someone at site level is given the go ahead to carry out improvements.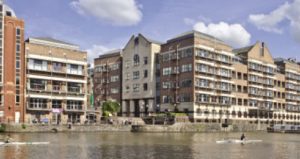 "We decided the solution was to pull FM away from the managing agents, and find a provider in the market that could give us a dedicated team that only works on LGIM funds and uses a system which provides that granularity of data to help us understand what good performance looks like," says Tyson.
He also wanted a partner who had the capability to create a new job role for FMs that was the equal of PMs. "This is what people miss about our new model," he says, "in that we created a Service Delivery Manager (SDM) role who is a peer to the property manager."
The resulting technology-led FMI solution is operated through Bellrock's Concerto operating platform, which manages elements such as supply chain management, technical compliance, business analysis and procurement, all from its 24/7 facilities management intelligence centre.