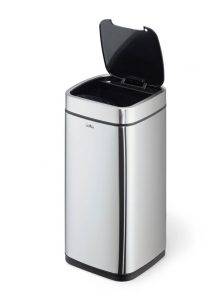 Since the start of the pandemic, hygiene has become more important than ever before, and it will continue to play a significant role in a post-covid world. That is especially true for waste disposal, an area that has always been particularly critical for hygiene. Disinfecting waste containers is good, but avoiding contact with them is better. To cater to this need, DURABLE, the modern workplace solution specialists, is introducing a series of contact-free waste containers. The NO TOUCH Sensor Bins come in four different sizes, with capacities from 6 to 35 litres.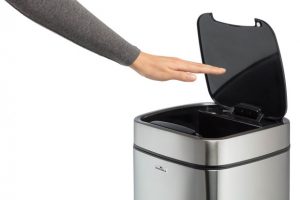 No contact necessary
Simply activate the sensor by waving your hand over the lid of the waste container. The lid opens and you can throw out your waste without touching the bin. The lid slowly closes again automatically after five seconds with the time displayed. The sensor and display are battery-powered and can also be used manually.
Beautiful and practical
There is a good reason for the new DURABLE Sensor Bins' rectangular design! Anyone who has ever thrown out A4 pages or magazines in their wastepaper basket knows that rectangular containers just fit more in them. The outer bin is made of brushed stainless steel, not only to give it a premium look, but it also won't show fingerprints – a practical feature, as every waste container needs to be emptied at some time. The plastic inner bin has a handle for easy removal and bin liners can be secured in place to prevent them slipping. The anti-slip base ensures that the bin won't topple over and it is easy to clean and can even be disinfected if necessary.
Fit everywhere
Sensor Bins are available in 6, 12, 21 and 35-litre models, so you are sure to find the perfect size for desk and bathroom waste, to everyday rubbish collection or as office wastepaper baskets. With their timeless yet modern stainless steel body, the waste containers blend into any environment: from offices, cafeterias and canteens to medical practices, retirement homes and private households.
For more information visit www.durable-uk.com
-ends-
To have your industry news published in the pages of FMJ's news section, Month in FM, and here online on fmj.co.uk, please send your news and image to Danny Grange danny.grange@kpmmedia.co.uk
The view or information contained within these unedited press releases, are that of the company producing it and not necessary the views of kpm.