Launch of the new DURABLE range with Letter tray, magazine rack, note box, pen cup, drawer box and waste basket // Circular economy: made from at least 80% recycled plastic // Blue Angel certified
"Green Office" is not just a trend but a long-term change toward greater sustainability in the workplace. Many companies and authorities are already voluntarily choosing office designs that are environmentally friendly and save resources. Modern workplace solution expert DURABLE now offers a Blue Angel-certified range of office accessories that are made from at least 80 per cent recycled plastic. DURABLE's production focuses on recycling in the sense of a responsible circular economy.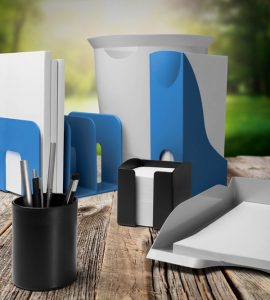 The company's range is made of high-quality recycled plastic and includes:
Letter tray
Magazine rack
Catalogue stand
Note box
Pen holder
Drawer box
Waste basket
More products are in the pipeline. The range is available from retail distributors and at durable.de.
Sustainable development
Sustainability takes a high priority at DURABLE and is an important cornerstone of its corporate strategy. 'As a manufacturer of plastic products, we face special challenges when it comes to safeguarding environmental protection', explains Martina Heiland, DURABLE PR Manager. 'Our approach to the new range is to recycle and repurpose existing plastic material in such a way that new, premium products emerge.' The DURABLE range meets the stringent specifications of Blue Angel, the world's oldest and most prestigious environmental label. The certified DURABLE products consist of at least 80 per cent recycled plastic.
For more information visit www.durable-uk.com
To have your industry news published in the pages of FMJ's news section, Month in FM, and here online on fmj.co.uk, please send your news and image to Danny Grange danny.grange@kpmmedia.co.uk
The view or information contained within these unedited press releases, are that of the company producing it and not necessary the views of kpm.