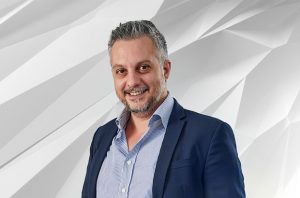 By Andrea Temporiti, Head of Digital for ABB Electrification
Demand for electrical energy is rising, with urbanisation and industrialisation driving an expected increase of 33 per cent by 2040.¹ These alarming upwards trajectories are spurring governments all over the world into action, with all major economies beginning to regulate carbon emissions and energy usage more forcefully.
For most countries, new legislation places a real onus on businesses to step up and play their part in reach-ing Government sustainability targets, by adopting the policy, technology, behavioural and business model changes needed to make both their workplace and industry zero-carbon.
There are already notable examples of how governments are actively encouraging businesses to stay competitive, compliant, and socially responsible, with over 40 countries and more than 20 cities, states and provinces already taxing companies on the amount of carbon pollution they generate. Yet alarmingly, a survey conducted by YouGov found that 40 percent of SMEs in the UK are yet to have a sustainability plan in place and 30 per cent don't have any intention of adopting one.
Achieving net zero is the responsibility of everyone, and enterprises are expected to play their part, no matter their turnover or business size. Even at ABB, with our 2030 Sustainability Strategy we are tackling our own carbon emissions and looking to drive impact from the inside-out with a focus on achieving carbon neutrality across our own operations¹.
And when it comes to meeting business sustainability targets, facilities managers, even within our own operations, are right in the thick of it, and the magnitude of the task at hand can feel overwhelming. Getting to grips with technology, strategies and solutions that will support the journey to net zero, without requiring considerable financial outlay is an important first step, but where should you start?
Start with data
As we approach the UN Climate Change Conference (COP26) in October, industry leaders are anticipating stricter legislation and binding pledges that will force businesses to begin their journey to sustainability, whether they are prepared for it, or not.
The problem is, most organisations do not have control over their energy consumption, nor an accurate methodology to inform them on how their site or building is operating. This is the first step in developing an effective sustainability strategy and the answer lies in data collection and analysis.
The early adoption of simple to use, plug-and-play energy management tools provides real-time or aggregated-time insight into how and where your facility is consuming energy, from the lights and the server room to energy-hungry systems on a production line.
Armed with accurate data, facilities managers can begin to reap the benefits of digitalisation – strategically making small but significant changes to reduce power consumption, improve operational efficiencies, drive cost reductions, and meet sustainability targets. In fact, an energy data and analysis program can often re-veal patterns of energy waste that would otherwise be impossible to spot, helping you to make the most impactful changes, first time.
Improvements based on data monitoring have been shown to reduce energy consumption by as much as 45 per cent which proves that understanding where and how your business is consuming (and wasting) energy is a critical first step. Continually monitoring energy consumption and power quality, allows you to make in-formed and strategic decisions on the small changes you can make quickly, and the larger sustainability in-vestments required to make your company compliant.
Simple solutions with a fast ROI
Cloud-based energy and asset management software, like ABB Ability™ Energy and Asset Manager, can make this process simple, allowing you to visualise in real time, asset and electrical-system behaviour from one clear and concise interface. Software like this is quick to use, as it is a Software as a Service (SaaS) and require little to no investment in IT infrastructure and can be scaled across multiple sites to build a complete and accurate picture of business energy consumption.
With otherwise undetectable sources of energy consumption visible using such a system, return on investment is quick and sustainable in line with your company's carbon reduction targets.
Start small, get bigger
With data monitoring in place, the key is to start small. Make small but impactful strategic changes to your electrical systems, such as introducing digital switchgear, processes and company behaviours then monitor improvements via your data collection software.
Once you have identified larger areas for improvement, consider working with a digitalisation expert to sup-port you in identifying the right technologies to make the most of any considerable sustainability investment.
Integrating renewable energy sources
Every journey has a destination and for businesses working towards sustainability, that destination should be the integration of renewable energy sources and independence from the grid.
This may sound unachievable, but with data monitoring as the backbone of your sustainability strategy, it is completely possible. Working closely with a partner like ABB can support your facility in realising the real potential of generating on-site renewable power and on-site power storage.
For more information on ABB Ability™ Energy and Asset Manager and how to begin your sustainability journey with data, click here.
1 Sustainability strategy 2030 — Sustainability — ABB Group (global.abb)
-ends-
To have your industry news published in the pages of FMJ's news section, Month in FM, and here online on fmj.co.uk, please send your news and image to Danny Grange danny.grange@kpmmedia.co.uk
The view or information contained within these unedited press releases, are that of the company producing it and not necessary the views of kpm.