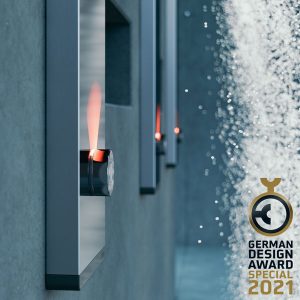 With an ingenious and simple invention, the new CONPRIMUS shower panels from CONTI+ enable a hygiene standard that is unique: Microbiological contamination of the shower water is almost completely ruled out through the positioning of the electronically controlled thermostat adjacent to the shower head. This reduces the standing water column that is normally standard in conventional shower systems to an absolute minimum and the panel can be additionally maintained through a regular rinse of either the hot, cold and mixed water lines which can be rinsed separately.
The jury of the German Design Awards 2021 have also been impressed by CONTI + CONPRIMUS and awarded the shower elements the "Special Mention" for outstanding design quality in the "Excellent Product Design – Bath and Wellness" category.
Discover the reliability and innovation of CONTI+, contact Paul Musgrove, UK Development Manager.
For more information visit conti.plus or email paul.musgrove@conti.plus
-ends-
To have your industry news published in the pages of FMJ's news section, Month in FM, and here online on fmj.co.uk, please send your news and image to Danny Grange danny.grange@kpmmedia.co.uk
The view or information contained within these unedited press releases, are that of the company producing it and not necessary the views of kpm.