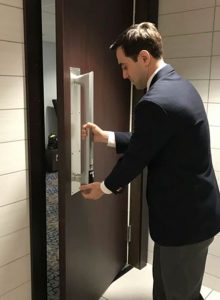 The pandemic has challenged all businesses. All public buildings have now become a threat and it falls to every business owner to make their facilities safe. Unfortunately, offices, factories, schools, restaurants and hotels were not designed with infection control in mind. Importantly, they have lots of touch points where visitors and workers can deposit and pick up infections
Recent studies show coronaviruses can last between two hours and two days on a variety of surfaces, emphasising warnings from the WHO and NHS about the dangers of picking up infections from door handles.
Our products aim is to make hands clean by combining a door handle with a hand sanitiser dispenser, making hand sanitisation easy and intuitive. Research has shown that PullClean can increase hand hygiene compliance by over 70%.
PullClean replaces the door handle in its entirety. The product can be accommodated by virtually any bathroom / lavatory door and also fits to hallway and office doors.
Visit www.openclean.co.uk for more information.
-ends-
To have your industry news published in the pages of FMJ's news section, Month in FM, and here online on fmj.co.uk, please send your news and image to Danny Grange danny.grange@kpmmedia.co.uk
The view or information contained within these unedited press releases, are that of the company producing it and not necessary the views of kpm.