The Parry Mobile Handwash Basin is ideal for maintaining vital handwashing in locations where water and waste services are not directly available. It is manufactured form high grade stainless steel, has a 2 years parts and labour warranty and is ideal for use in a variety of sectors including hospitals, care homes, schools, colleges, building sites, factories and office blocks.
Fitted with a 13mp plug, the MWBT is supplied ready to fill and use straight from the box. Hygienic handwashing facilities can be set up and ready to use in a matter of minutes.
The MWBT tank is manually filled via a secure cover to the top with 15l of water. During use the basin drains into a removable receptacle in the base of the unit which is also manually emptied negating the need for a waste drain connection. The MWBT capacity of 15l is designed so that it provides as many hand washes as possible and does not exceed the HSE guidelines for manual handling limits for men and women.
Water is dispensed by a foot operated pump at a constant temperature of 42 degrees Celsius for comfort and safety. There is no hand contact required to dispense the water.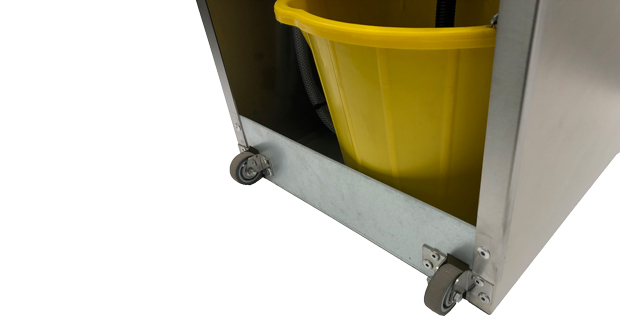 The unit weighs 20kg (dry) and is fitted with rear wheels and a handle for ease of manoeuvring. Compact in size, the MWBT measures only 450mm wide by 600mm deep by 900mm high allowing it to fit neatly into small spaces.
The range includes a low height version, perfect for young children, a coldwater version for use where a power is not available, a door option which allows emptying from the front plus a deluxe versions, one of which can also be supplied an integral water heater and touch free tap suitable for fixed installations.
The Parry mobile wash basin has now been successfully providing mobile hand washing facilities for over 10 years in numerous locations throughout the UK. Tried, tested, reengineered and now copied many times, it continues to lead the market in quality, longevity and value for money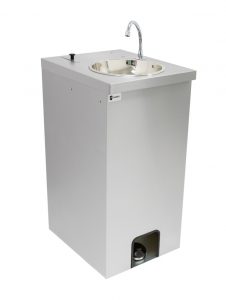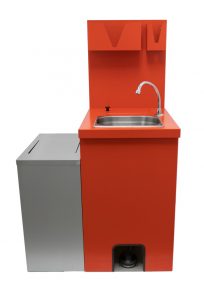 For more information on this or any other, please visit parry.co.uk, email enquiries@parry.co.uk or call 01332 875544.
-ends-
To have your industry news published in the pages of FMJ's news section, Month in FM, and here online on fmj.co.uk, please send your news and image to Danny Grange danny.grange@kpmmedia.co.uk
The view or information contained within these unedited press releases, are that of the company producing it and not necessary the views of kpm.