Pressac extends its global reach and enhances its product portfolio
As businesses seek to find equilibrium through coronavirus and beyond, smart buildings have become increasingly important across the globe.
By monitoring and managing occupancy, headcount, and energy use, the smart gateway is an essential piece of kit to bring data to life. The US approval confirms that Pressac's smart gateway complies with the FCC (Federal Communications Commission) guidelines and can now be used in the US.
"We're delighted our gateway has now been approved for use in the US, allowing us to help even more organisations better understand the way their buildings work," says Robert Smith, Pressac's Technical Director. "Our compliance with EU regulations also means that companies across the globe know they are using a high-quality product that meets rigorous industry standards."
This year, Pressac also responded to two additional key market needs. First, it expanded its occupancy sensor range to aid the safe return to workplaces. Second, it's now approved by the three leading IoT plat-forms: IBM Watson, AWS loT, and Microsoft Azure Core, enabling businesses to get data from the cloud to any application.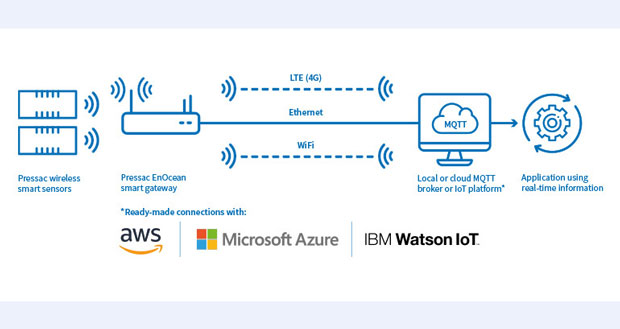 Pressac's original desk occupancy sensor used a 180 degree PIR designed to pick up the movement of a per-son under the desk, not behind or next to it. However, Pressac repurposed the sensors to offer three new solutions. The first is table occupancy sensors. The under-table sensor now detects movement at 360 degrees. The small, battery-powered sensor sticks on the underside of the table, enabling continuous, real-time table occupancy monitoring. Alternatively, it can be placed on a ceiling to detect presence at a table.
The second solution is cubicle occupancy sensors. The under-desk sensor has been repurposed for use on a wall or ceiling, and can measure a range of up to 5m, enabling you to detect live presence in a toilet or meeting booth. Lastly, a new battery-powered room occupancy PIR sensor with a wider field of view for room occupancy/presence.
"Pressac's sensors have long been used for effective workspaces and energy monitoring, helping organisations see real-time continuous data," adds Robert Smith, Technical Director. "By making these simple adaptations, we can help businesses manage their safe return to work, with simple and discreet solutions that will take them through COVID-19 restrictions and beyond.
"These benefits, along with our commitment to delivering scalable, cost-effective, and compliant solutions, have established Pressac as a top smart sensor manufacturer in the UK, now with the added benefit of US approval."

For more information visit www.pressac.com
-ends-
To have your industry news published in the pages of FMJ's news section, Month in FM, and here online on fmj.co.uk, please send your news and image to Danny Grange danny.grange@kpmmedia.co.uk
The view or information contained within these unedited press releases, are that of the company producing it and not necessary the views of kpm.