According to a recent survey 10 per cent of buildings have achieved over half (54 per cent) reduction in energy use since the lockdown. Once we get back to BAU how can organisations aim to reach their sustainability targets, especially if buildings are subject to social distancing measures?
During the COVID-19 lockdown, many businesses have successfully transitioned to staff working from home and this is likely to continue even after lockdown restrictions are eased. Existing opinions about the feasibility of remote working have suddenly been challenged, and how organisations adapt to this new way of working could well determine their future. Withdrawing from a traditional, office-based work culture towards a more agile way of working has been predicted for many years but we now find ourselves in a situation where it has been widely enforced with negligible planning and preparation.
The successful move to work from home is already leading businesses to question whether they need as much office space or whether their space can be used more effectively. At the same time businesses are looking at how they can then make the remaining space more efficient, flexible and, of course, carbon-efficient using technology to aid the transition.
Nevertheless, many organisations will require some staff to return to the workplace with social distancing measures in place and this reduced occupancy has consequences for the buildings' services. For example, with reduced staff numbers it may be possible to close off certain areas, especially small spaces where social distancing isn't feasible. The services to these areas can then be either switched off or linked to occupancy control so that energy is only being used when it's needed. There will also be reduced demand for comfort cooling as fewer people generate less heat.
However, there is evidence that viruses can be spread around a building by recirculating ventilation systems, so best practice guidance is to turn off recirculation of air and introduce optimal levels of fresh air from outside. This may result in increased energy consumption, but health and safety considerations are paramount.
Given all of these variables it's essential to understand how the buildings are performing and this is greatly facilitated by smart systems that can monitor key metrics remotely. This knowledge enables optimisation of systems from an energy perspective without compromising on health and safety and underpins informed management of energy consumption and identification of any areas of energy wastage.
Smart Building systems are now so advanced that they can detect if meeting rooms have been occupied during a scheduled period and can adjust the heating & cooling within the room to reflect whether the meeting has taken place. These same systems can even help staff who may be unfamiliar with the building to locate appropriate areas minimising unnecessary employee movement around a building.
It is now clear that, whilst lockdown measures will be gradually eased over the coming months, the COVID-19 threat is likely to remain for many months to come. Organisations therefore need to take a long-term approach to revising their working practices and property usage. By installing energy conservation measures such as LED Lighting, HVAC solutions, BEMS,
green power solutions and smart building controls and systems, organisations can reduce energy and water consumption and carbon emissions whilst increasing their bottom line and improving building environments for staff.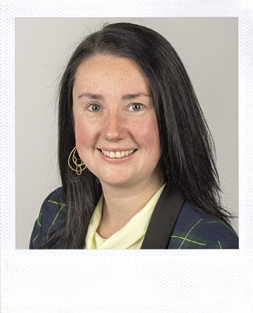 THE ENERGY MANAGER ASSOCIATION'S VIEW
GILLIAN BROWN,
ENERGY MANAGER AT THE UNIVERSITY OF GLASGOW & EMA BOARD DIRECTOR
As the lock down took hold with very little notice, many of us walked out of buildings completely for weeks on end. In many cases, buildings were shut completely with no people entry possible, however much of the equipment within these buildings had to continue to run as normal. Whether this was a lab or IT equipment, archive stores, swimming pools or animal centres, these functions utilise much of the energy consumption whether people occupy the building space or not.
As workplaces are slowly reopened there are several changes which need to be considered to ensure social and physical distance measures, where possible, are adhered. Workplaces are now being asked to fundamentally change the structure and set up of office space, shift patterns along with entry and exit times and spaces. These changes are expected to affect the energy consumption of buildings and therefore will have an impact on achieving energy and carbon reduction targets already in place within several organisations.
These changes to when and how we occupy a building will likely increase energy consumption and therefore carbon emissions from many buildings. As a very basic minimum, it would be expected that extended opening hours would lead to HVAC systems running for longer periods of time. Electricity consumption will increase as electrical equipment will be required to run for extended periods to allow more flexible working and changes to shift patterns. IT equipment will require increased processing power for more people working remotely. Fans and motors will have longer run times as air changes are increased during working hours, along with the potential to increase overnight purging of air.
It will take time to fully understand how these changes will tangibly affect the energy consumption and resultant carbon emissions from buildings over the longer term. In the short term, there are some basic actions we can take to ensure we manage this change. Firstly, upskilling staff to understand the effect that this new norm will have on energy consumption. Whether people are back in full time, reduced hours or simply working from home more, enabling them to have a heightened awareness of their energy consumption and specifically what is being left on and why will help reduce wasted energy. As spaces are expected to be less frequently used, asking staff to undertake simple actions such as turning off IT equipment, printers and office air conditioning will increase energy 'ownership'.
Secondly, for energy and building professionals, working together to share experiences and good practice will help everyone move through this new challenge together. Organisations such as the Energy Managers Association (EMA) can facilitate knowledge sharing, provide good practice examples and help connect like-minded professionals facing the same issues to create collaborative and innovative solutions.
Lastly, reviewing energy and carbon targets to account for these new changes will allow organisations to be in a better position when reporting changes to consumption and emissions. The volume of energy and carbon savings achievable in the short term is likely to decrease and this needs to be realised and accounted for.