Strut channels are used in a wide variety of applications like Plumbing, HVAC, Fire Protection, Electrical and Solar for structural support of pipes, ventilation/air-conditioning/sprinkler systems as well as cable trays and solar panels. Before installing, each strut channel needs to be cut and deburred. This activity can be a very time-consuming task when it is done with traditional cutting tools like an angle grinder, cold cutting and recip saw. Depending on local regulations and job site conditions, the user may also need a hot work permit because of excessive spark generation during cutting, which can lead to downtime if the permit is not obtained in time, according to the plan.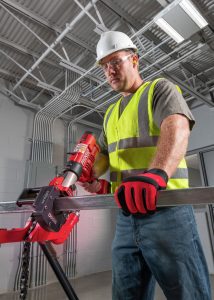 For addressing all these pain points and offering the user the fastest and safest cutting experience of Strut Channels, RIDGID has introduced the StrutSlayR Strut Shear Head. StrutSlayR is attached to a RIDGID Standard 32 kN Pressing Tool and delivers high quality, straight and burr-free cuts in 5 seconds or less. StrutSlayR offers a shearing operation, where the material gets displaced, rather than directly cut; because of the shearing operation, there are no grinding or sawing sparks and there is no hot work permit needed.
Features and specifications
Portability. StrutSlayR Head weighs only 5.4 kg and is supplied in a sturdy and compact blow-molded case for easy and safe transportation to any jobsite. Cut everywhere, anywhere!
Size & wall-thickness. StrutSlayR features field-replaceable dies and it is supplied with either a 41×41 or 21×41 shearing die, covering the most important two strut channels sizes. StrutSlayR can be used for cutting Strut Channels with wall-thickness up to 2.5 mm. A minimum amount of 2000 cuts can be expected from each new die set. Efficiency as never before!
Compatibility. StrutSlayR is compatible with the RIDGID Standard Series 32kN Press Tools, such as the RIDGID RP 350 and RP 351 Standard Pressing Tools. Approximately 140 cuts can be expected from a single full battery charge on e.g. RP 350 with StrutSlayR Head mounted. Interested in more information on the RIDGID Pressing Tools? It is available only a click away.
Flexibility. StrutSlayR is highly versatile. It can be easily used on a workbench, on a RIDGID TRISTAND, on the ground or even on a platform.
Accuracy. A built-in measuring guide is displayed on the StrutSlayR to accurately measure the size of the strut that needs to be cut. The integrated Strut Support prohibits deformation of
the Strut channel and provides a straight cut every time.
Safety. As there are no grinding or sawing sparks involved during the cut, there's no need for a hot work permit on the job site. Maximum safety, minimum tool downtime!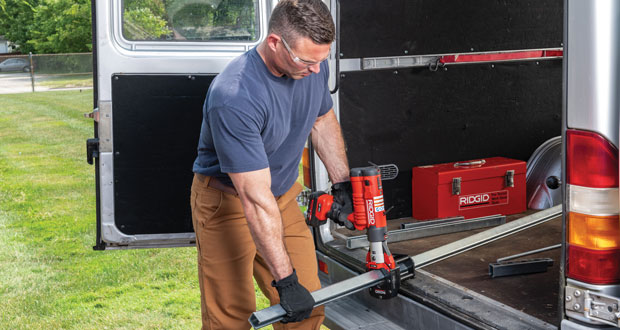 More information
RIDGID StrutSlayR is unsurpassed in cutting struts fast, clean, with no sparks, straight and hassle-free. It is just the professional cutting solution you need to have at hand in your workshop.
Learn more about the RIDGID StrutSlayR from Les Birsday, a RIDGID product expert, by watching this video.
Interested in even more details and product advice from Les? Schedule your virtual live demo and you will get fully convinced that RIDGID StrutSlayR is the cool work solution to cut channel and strut you've been always looking for.
For more information visit www.ridgid.eu/gb/en/press-tools
-ends-
To have your industry news published in the pages of FMJ's news section, Month in FM, and here online on fmj.co.uk, please send your news and image to Danny Grange danny.grange@kpmmedia.co.uk
The view or information contained within these unedited press releases, are that of the company producing it and not necessary the views of kpm.