An innovative antimicrobial cleaning system developed by Panaz, a leading manufacturer of technical antimicrobial fabrics, is at the heart of a new cleaning regimen adopted by the UK's largest hotel chain, designed to minimise the risk of surfaces spreading COVID-19.
Independently proven effective against 99.99% of enveloped viruses, bacterial and fungal microbes including Coronavirus, MRSA, Norovirus and E.Coli, Shieldplus by Panaz is helping to regain trust amongst both patrons and staff across the healthcare, hospitality, workspace, cruise & education sectors.
The underlying technology, used successfully for over 15 years in the healthcare industry, has been further developed and bottled for use as a multi-surface spray, Shieldplus Protect, and as a laundry additive, Shieldplus Laundry.
Beyond the antimicrobial protection, Shieldplus is helping facilities to save money on excessive cleaning during the pandemic. Unlike standard antimicrobial cleaners, which evaporate after application, Shieldplus Protect forms a chemical bond with the surface, allowing it to remain 99.99% effective for up to 90 days; whereas Shieldplus Laundry offers protection to clothing and bedding for up to 14 wash cycles.
Tony Attard, Panaz CEO, said: "Shieldplus was originally developed as a key weapon in the fight against hospital acquired infections and has been used extensively in hospitals throughout the world. We quickly realised its potential benefit in helping to stop the spread of the coronavirus pandemic. Unlike silver-ion or other heavy metal technologies based on poison, Shieldplus is non-toxic and does not leach into the environment."
Since launch, the innovative new technology has been successfully used in a range of settings including major international hotel groups, education facilities, theatres and local authorities who have been able to save considerable time and money on their new Covid-era cleaning regimes without compromising on protection.
The product is available in a range of formats and sizes, including 750ml trigger spray bottles and 5L bulk cans.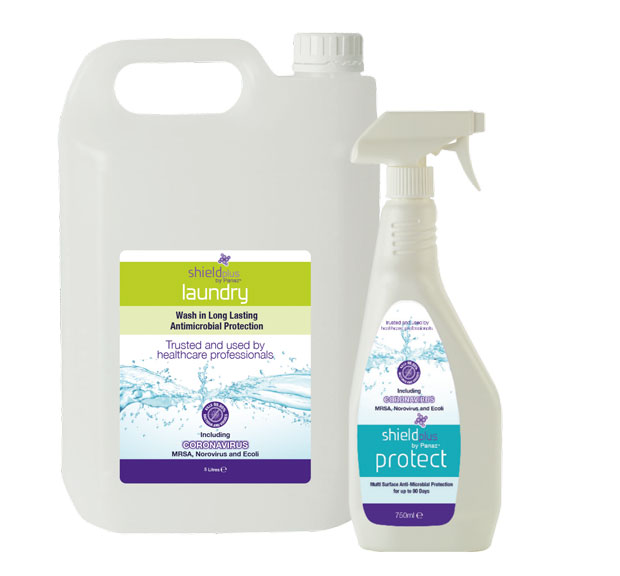 For more information visit www.shieldplus-bypanaz.com
-ends-
To have your industry news published in the pages of FMJ's news section, Month in FM, and here online on fmj.co.uk, please send your news and image to Danny Grange danny.grange@kpmmedia.co.uk
The view or information contained within these unedited press releases, are that of the company producing it and not necessary the views of kpm.