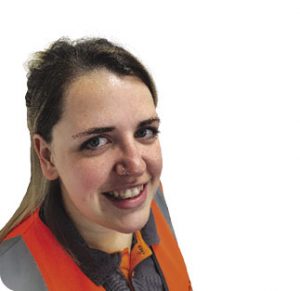 In the latest in our series which celebrates the careers of front-line FM workers, we hear from Kerrie Carrott, Trainee Fire and Security Engineer, EMCOR UK
A couple of years ago, Kerrie Carrott was the person who organised an engineer's visit to carry out fire and security maintenance or remedial work but she is now the engineer on site delivering those services.
Carrott began her career working for Garmin as a customer service apprentice where she provided technical support to the company's customers. She then moved to Adecco where she helped set up the software ordering system for one of its clients.
Following some time abroad, Carrott joined EMCOR UK, a leading provider of facilities, asset and workplace management services, as a helpdesk operator for its fire and security services division. Carrott would respond to customers' requests for maintenance and repair work and would schedule the call outs with the EMCOR UK engineers and prioritise the work appropriately.
Commenting on her role on the helpdesk, Carrott said: "Enquiries were dealt with on a regional basis and I was responsible for organising the call out schedules for the engineers in the South. With time, my knowledge and understanding of the various issues increased and I realised that I'd really like to work on the practical side."
At the time EMCOR UK established a fire and security apprenticeship programme but for Kerrie the salary was much less than she was currently earning. However, keen to support Carrott in her career goals, EMCOR UK arranged for her to do a job share in her role on the helpdesk – for two days a week – and then spend the rest of the week as a trainee fire and security engineer.
"This was a great solution for me as it enabled me to dip my toe in the water and see what the engineer role was actually like and, at the same time, I didn't have to take a pay cut. The trainee role was also more suited to my experience than the apprenticeship as, due to my experience on the helpdesk, I had developed a good understanding of the types of customer issues that the engineers had to address."
After a few months, Carrott's role as trainee fire and security engineer became full time and she continued to develop both her practical skills and her theoretical knowledge: "I improved my practical knowledge by shadowing engineers on the job and then I supplemented this experience with theoretical learning from the Fire Industry Association (FIA)."
FIA TRAINING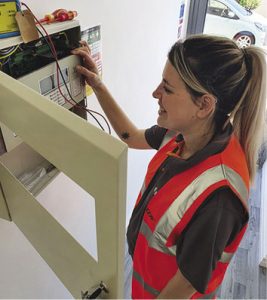 The FIA is the largest fire protection trade association in the UK and runs fire training courses to help individuals working in the industry to demonstrate the right competencies, stay up to date with the latest fire protection standards and to develop in their careers.
"My practical experience was with a couple of customers, learning about the maintenance of both intruder alarms and fire alarm systems. The FIA training has assisted in combining the necessary theory with the practical aspects of the role and has helped increase my confidence to carry out tasks independently.
"Since November, I have worked at a large site in the South West of England that carries out research and development work. There are over 100 buildings and, although COVID has led to a reduction in the number of people working, the maintenance of the fire and security systems has remained as critical as ever and so this work has continued as it had before."
To develop her skills further, Carrott undertook some electrical principles training to better understand the main principles of electronics. Normally this would have been a practical course but due to COVID restrictions the course was run online.
"I think my experience on the helpdesk has really helped me to do my job more effectively as I know why it is important to complete and return the necessary paperwork so that the helpdesk can close jobs and run necessary reports. I have a clear understanding of the whole process from start to finish and I share this information with the other engineers, so they understand why certain administrative tasks need to be completed.
"I am always keen to learn and I feel that there is still much more that I can learn both on the maintenance side, where my experience has been so far, but also about the installation aspect of the business. I am currently expecting my first child and I am grateful that I have been able to continue the role during my pregnancy; this is due to the fact that EMCOR has been eager to carry out regular health and safety assessments to ensure I am safe to remain at work.
"Where I work, I am the only female fire and security engineer but all the engineers have welcomed me into the fold and are keen to help me train and develop. I knew some of them from my helpdesk days and so we had already established a positive relationship.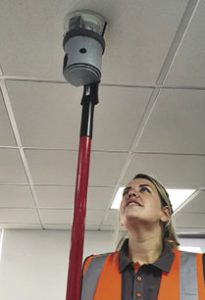 "I think what I enjoy most about my job is that I meet lots of people throughout the day. I move around the site, visiting different buildings, and speak to people doing all sorts of jobs which I find interesting. The work is stimulating as different issues arise that I need to work out and to fix.
"I don't think it matters whether you are male or female to do the role but what is important is to ask lots of questions, to be keen to learn and not be afraid to ask for help from the other engineers when you need it.
"I am so pleased that I made the move from an administrative role to training to be an engineer. I am especially grateful that EMCOR helped make this happen as I wasn't in a position to reduce my salary to do the apprentice role.
"The future is very exciting for me both personally and professionally. I look forward to becoming a mother but I also look forward to returning to a job that I love."