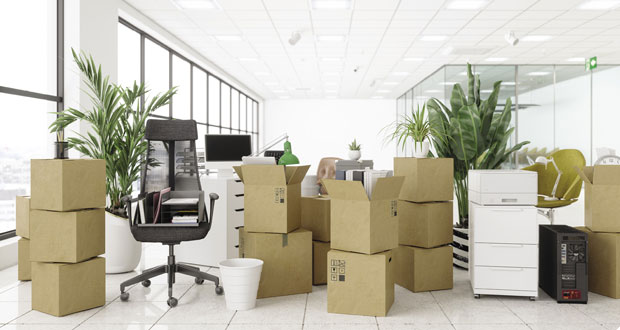 With many companies likely to need to still access important items, even as they downsize their offices or clear space for collaborative areas, Rachel Houghton, Managing Director at Business Moves Group offers advice on accessible storage options for office furniture and equipment
At this stage it has become fairly clear that COVID-19 is set to leave a lasting impact on the commercial real estate market. It's easy to recall what routine life looked like for many prior to the pandemic. Adhering to strict working hours was the norm, where the office stood as the central hub of all productivity. Employees would arrive, work at their desk, and leave again more or less within the hours of 9am and 5pm.
Today, however, things look a little different.
THE FUTURE OF THE OFFICE
While remote and hybrid working models were in the vast majority of instances born out of necessity as a result of national lockdowns, social distancing, health concerns and general uncertainty, today they appear to be normalising, with businesses having recognised the benefits for both employer and employee.
Indeed, according to a report from the Institute of Directors released at the end of April 2021, as many as 63 per cent of business leaders outlined intentions to adopt hybrid working models after the restrictions in place in the UK at the time had eased. Further, around one in 10 firms revealed that they would be looking to work from home permanently.
A survey of London office workers also showed that employees wanted to spend an average of 2.7 days back in the office once all COVID-19 restrictions have been lifted – down from the 4.2 days a week that was typical prior to the pandemic.
Such a stark shift has inevitably had a significant effect on the commercial real estate industry.
Statistics from Savills reveal that property vacancy rates in the City of London rose from 5.3 per cent in March 2020 to nine per cent in June 2021 because more companies opted not to renew their leases. Indeed, many are now taking the time to decide what the most logical approach may be for their firm moving forward – be it office-based, hybrid, or fully remote.
It is likely that the majority of companies will still require and desire some kind of office space. Dedicated company workspaces have been proven to boost employee wellbeing, enhance innovation and collaboration, cultivate relationships, and more easily instil company-wide cultures.
However, what these workspaces look like will, in many cases, change as the needs of occupants' shift, be it downsizing or rethinking what the workplace should look like to address the needs of the employee more effectively in the new normal.
GETTING RELOCATION RIGHT
During this interim period, solutions will be required to reduce some of the pressures and provide businesses with peace of mind.
When a company leaves a premises, it is unlikely they will take absolutely everything with them in the aim of putting together the exact same set up in their next office. Instead, moving often provides the perfect opportunity to discard unwanted items and replace them with modern, updated replacements, from IT equipment through to artwork and furnishings.
However, deciding what to move, store, recycle, refurbish and/or donate is easier said than done.