Roger Marks, Managing Director at Aeromark talks to Charlotte Bywell, UK Managing Director of the Airedale Group about taking the risk out of digital transformation
Digital transformation is essential if you want to drive operational efficiencies and prepare your business for the future, but it takes considerable commitment to take the decision to change your systems and overhaul your processes.
The Airedale Group and their technical services division, Airedale Technical Care, is one of the largest commercial catering installation, service and maintenance companies in the UK and following recent acquisitions has over 300 specialist engineers out in the field nationwide.
"Strategic development never stops, it's a continuous process," says Charlotte Bywell, UK Managing Director of the Airedale Group. "But the wider issue is making time to act upon it and finding the courage to make major changes to the status quo. The thought of changing deeply embedded processes often turns many people off and means that not changing can appear a safer option. But we felt the current economic situation actually provided a great horizon for change and a chance to redefine our organisation and create a stronger business foundation for the mid to long term."
It has become more important than ever to ensure maintenance plans beat service level agreements. Asset downtime or inefficient running is even more costly at a time when margins are falling but prices are rising.
Bywell adds: "Our engineers are trained to carry out multiple equipment repairs on a range of catering assets to ensure we meet and exceed our client's expectations. Therefore, the efficient internal management of people and resources is vital."
OVERCOMING RESISTORS
Organisations tend to accumulate software, processes and, especially, people that become embedded, making change difficult. It often seems easier and prudent to make tactical alterations rather than the bigger decision to go the whole way and transform.
From an IT perspective it can be convenient to look at systems like Enterprise Resource Planning (ERP) but no system can do everything and do it well. An ERP system will be stronger at core finance functions just as a Customer Relationship Management system will be proficient at sales and marketing. Service and maintenance have their own demands and expertise, and therefore demand their own platform.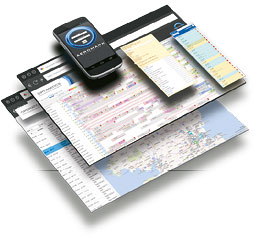 Bywell continues: "For our digital transformation, we undertook an evaluation of the various incumbent Computer-aided Facilities Management and Service Management applications within our group of companies and a comprehensive review of alternative systems in the marketplace. We selected Aeromark as our partner because of their strong sector experience, the functionality and their commercial model which offers a true partnership approach."
She says there was lots to consider: "We needed operational integrity for each group entity; for compliance and resource optimisation; and we wanted to be able to share services across divisions. We also needed the ability to control cross-charging and commercial reporting across our technical care division in the one platform which would allow cross-company fluidity. We also had to ensure minimal risk to the group during the transition."
MITIGATING THE RISK OF CHANGE
"It is a significant risk. We all hear stories of things going wrong. So, if you're going to take the plunge into large-scale digital change, you need to have the confidence that you've chosen the best platform and people to guide you through it and you have to be mindful of the commitment required from your own people. In any project like this, they have to carry on with their 'day job' during transition.
"Once you have committed to change, work with your partner to redefine your operations, and be mindful that, as the sponsor for change, you should work with the resistors through open communication and inclusivity. Very soon the resistors become the drivers and the job is half done," she adds.
One other factor Bywell identified was the commitment of the partnership:
"Unlike most software companies there are minimal upfront costs for licences and professional services which reduces our exposure and increases the drive to go-live, this gave us both assurance and confidence."
WHERE NEXT IN THE STRATEGIC THINKING?
All business areas require strategic thinking and, always with a view towards environmental issues such as energy management and emission control. Within Airedale Technical Services environmental social governance has become more tangible because more effective resource management will now maximise jobs per day, resulting in less travel time and in turn reducing CO2 emissions.
Within Human Resources, there's increasing pressures on retention, recruitment and the skills shortage, digital transformation optimises current resources reducing the burden of recruitment and, through integration with a video streaming and capture systems, cross training is available. Engineers benefit, retention improves, and skills are shared for the benefit of all.
In a fiercely competitive market made more difficult through increasing costs and the recession, taking the plunge through digital transformation has become fundamental to reducing costs and the environmental impacts of its operations, not only for Airedale but also for its customers.
As Bywell concludes: "If not now – then when?"