RIDGID has been a trusted brand for pressing technology for over 25 years. This is a grant that RIDGID's press tools perform at the highest expectations, making quick and reliable connections on copper, stainless steel, PEX and multi-layer tubing.
The latest addition to the RIDGID pressing family are the RP 350 and RP 351 Press Tools, world's first press tools with no service interval.
The new RP 350 and RP 351 tools offer a wide array of Next-Level features and upgrades.
In terms of weight, the RP 350 checks in at 3,2 kg, whereas the RP 351 at 3,12 kg. That's a comfortable weight to carry around and use. RP 350 has an ergonomic pistol grip design, whereas the RP 351 has an inline design, optimally balanced for a one-handed use.
The brushless motor technology combined with an advanced hydraulic system allows the RP 350 and RP 351 to reach over 100.000 press cycles, without requiring any scheduled maintenance. This means there is no service interval, no periodic service requirement and no scheduled service downtime during the lifetime of the tools.
Agility is everything. The endless 360° swivel head provides access to the hardest-to-reach locations, while 12 powerful LED lights help the end user work even in the darkest corners of an attic.
At RIDGID, safety comes always first! Therefore, the RP350 & RP351 only work when the bolt is fully locked, for zero accidents on the job. Also on the safety side, let's not forget about Press-CHECK! This RIDGID Exclusive Sensor monitors and confirms every single press cycle done with these pressing machines.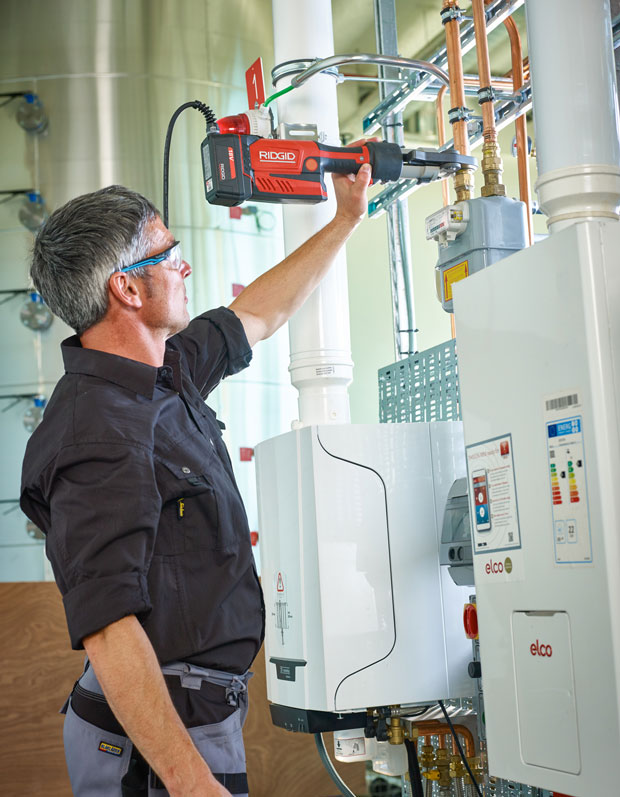 Full access to critical information
One other smart feature of the RP 350 & RP 351 that sets these pressing tools apart is RIDGID Link™. This is a mobile platform that interfaces with all RIDGID tools equipped with Bluetooth technology. It helps users to keep a running tally of total crimps made with the tool; it easily monitors battery life remaining before a charge is necessary; it gives access to instructional videos and documents; determines the exact location where the tool was last connected and finds the closest service center. Easy as never before!
RP350 and RP351 come with a full range of original RIDGID 32 kN press jaws, rings and actuator. Both tools can use the RIDGID 18 V Li-Ion batteries, the corded power adapter (5 m cable or) the 18 V Makita LXT-series batteries, thus ensuring a full power access.
RIDGID RP 350/351 pressing tools are unsurpassed in making quick, reliable and professional connections by ensuring no joining material buildup, exposed threads or tarnish.
As these tools absolutely rock, they are now on an official tour at 9 plumbers from all around Europe! The tour participants are all trusted RIDGID users and friends who will get to test the new RP 350 and RP 351 for a trial period on the pressing jobs they have at that time. UK is represented by Ian Briggs, so if you are interested in the tour, make sure to check him or RIDGID Europe on Instagram: @irbheating and @ridgid.europe.
To discover more about the RIDGID RP 351/351, watch the video below or visit the RIDGID website.
-ends-
To have your industry news published in the pages of FMJ's news section, Month in FM, and here online on fmj.co.uk, please send your news and image to Danny Grange danny.grange@kpmmedia.co.uk
The view or information contained within these unedited press releases, are that of the company producing it and not necessary the views of kpm.