We are living in anxious times. People, who may have been working from home for months during the pandemic, are understandably nervous about going back to the office.
But companies can help to steady those nerves by ensuring their staff feel safe at work.
Over the past year, facilities managers have been widely recognised for ensuring organisations run smoothly. Their role now, though, is more important than ever. For those organisations not only need to run smoothly, but they need to be able to operate safely. And staff need to feel confident that they are in safe hands.
As UK businesses gear up for the end of lockdown, INEOS believes it can help facilities managers to prove that by investing in one of its new touchless hand sanitiser dispensers.
Research reveals that:
More than 80% of employees are planning on returning to their place of work when guidance permits

Over 60% of FMs rank Hygiene as one of their top priorities right now

A poll by The Institute of Facilities and Workplace Management (IWFM) found that 44% of returning workers were worried about their workplace maintaining appropriate hygiene and cleaning standards
THE FUTURE OF HAND SANITISING
Last year, INEOS Hygienics, the world's largest producer of high purity synthetic ethanol, began manufacturing hand sanitiser on an industrial scale to help with the critical shortage across Europe and in the US.
It built six new plants within days and began supplying its hospital grade sanitiser to doctors and nurses free of charge.
That same 75% hospital grade sanitiser is now on sale to the world – and INEOS has built a stylish dispenser to ensure it gets into the right hands.
The new dispensers not only look great, but they are reliable, durable and functional with easy-to-change replacement cartridges.
To INEOS, it's not just about good practice, it's an investment in the safety and confidence of your sta­ff, clients and customers.
BUILT FOR BUSINESS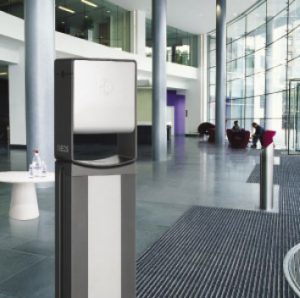 Touchless hand hygiene, purpose-built for business environments.
Hands free sanitising – hygienic and safe
Swiss-engineered – reliable and precise
Aluminium frame – durable and robust
Long-lasting 1500ml cartridges and simple cartridge replacement system
Easy reordering with assured INEOS Hygienics security of supply
INEOS Hygienics hospital grade sanitiser – 75% alcohol solution, kills 99.9% of viruses and bacteria
Floor stand or wall mount options available
Integrated spare battery slot to allow quick battery changeover and continuous use
Customised branding available on request
SME VERSION AVAILABLE
A smaller version, ideal for those working from home or smaller business users.
Range of colours
Same durable construction and engineering
Smaller sized cartridges – 300ml
Use sanitisers safely. Always read the label and product information before use.

Contact your INEOS sales representative to find out more about bulk purchases for business.
dispenser.ineoshygienics.com/for-business