Designed for maximum hygiene and cleanliness, Viega has introduced two new touch-free flushing technologies for urinals in public facilities such as offices, transport hubs and sports stadiums. The concealed and infrared flushing solutions are available in a variety of design options and are protected against vandalism.
For the concealed flushing solution, a sensor is installed inside the urinal siphon, which registers the change in flow and temperature when the urinal is in use. This will trigger the flushing mechanism automatically, delivering exceptional hygiene for the user. In addition, the whole system is concealed behind a wall, protecting it from any form of damage or vandalism.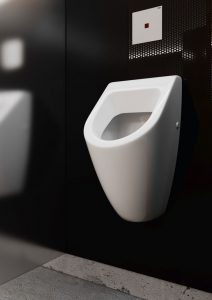 Adaptability is another important consideration for public sanitary facilities. The concealed flushing system offers the option to set a one or three litre flush depending on the requirements. A dynamic option is also available that will automatically detect high frequency use and reduce the flushing volume from three litres to one. Depending on the selected setting, additional hygiene flushing can also be triggered automatically after 24 hours.
The infrared technology system offers another option to deliver maximum hygiene with touch-free flushing. The system is installed behind the wall together with the compatible Viega Prevista Dry urinal element. Once installed, only the flush plate with its integrated sensor is visible. The flushing mechanism will trigger when a user stands in the detection range of the infrared sensor for at least eight seconds, preventing unnecessary activation. The detection range, flushing volume and duration can all be adjusted in line with expected use and specific requirements.
The Visign for More 200 IR urinal flush plate is available in dark oak, jet black and traffic white glass, as well as various plastic options to suit a wide variety of designs and facilities.
"The technology is designed for big facilities such as shopping malls, sports stadiums and concert halls," said Glen Peters, Technical Support Manager at Viega. "We believe that public facilities shouldn't have to compromise on design, hygiene or functionality, which is why our latest touch-free products offer a rounded solution with a variety of options to best meet the requirements of the building."
To find out more about Viega, visit www.viega.co.uk
-ends-
To have your industry news published in the pages of FMJ's news section, Month in FM, and here online on fmj.co.uk, please send your news and image to Danny Grange danny.grange@kpmmedia.co.uk
The view or information contained within these unedited press releases, are that of the company producing it and not necessary the views of kpm.