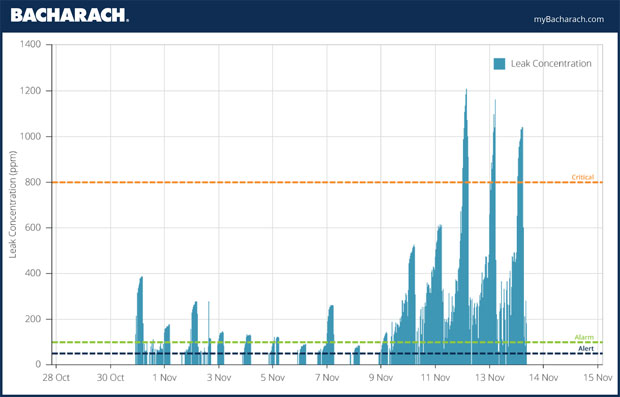 Reducing refrigerant emissions will reduce your costs and improve your bottom line. Learn from the gas leak experts at Bacharach on Wednesday, July 28th, and enhance your understanding of refrigerant leaks and how to identify patterns.
Bacharach's webinar will explore how data analysis of over 2.8 billion samples from Bacharach's Connected Solutions will provide a greater understanding of refrigerant leak patterns – and how you too can detect refrigerant leaks as early as possible.
The importance of detecting, notifying, and fixing refrigerant leaks as swiftly as possible is a core objective of many organisations where cooling and refrigeration are critical. The benefits are considerable, ranging from ensuring product quality, employee and customer safety, reducing operating costs, and improving equipment performance.
This webinar will be hosted live on Wednesday, July 28th, 2021 at 10:00 (EST) / 15:00 (GMT+1) via Zoom with a duration of approximately 1 hour.
To reserve your place, visit: https://www.mybacharach.com/understanding-refrigerant-leak-patterns-webinar/
-ends-
To have your industry news published in the pages of FMJ's news section, Month in FM, and here online on fmj.co.uk, please send your news and image to Danny Grange danny.grange@kpmmedia.co.uk
The view or information contained within these unedited press releases, are that of the company producing it and not necessary the views of kpm.