As workplaces reopen, front of house teams will play a huge role in guiding building users through adaptation to the 'new normal'. Amanda Baber, Director of Business Development at Portico, addresses how this can be done in a way that reassures building users without overstretching FoH professionals
The past year has been a dramatic learning curve. The resilience of every enterprise has been tested by the unexpected. While the rolling out of a COVID vaccine is promising an end to the pandemic, there are still more hurdles to overcome and we will not return to the way things were. There are many elements of the built environment that have changed over the past months. For some, it has been almost a year since they set foot in the workplace so readjusting will be a challenge.
Polls suggest that many employees would prefer to remain working remotely at least one or two days each week after the pandemic. However, working from home full-time has been far from ideal. It has had some dramatic impacts on the mental health of the workforce over the course of the year. Many employees are keen to return to the workplace as soon as possible.
Foremost when reopening workplaces will be the health and safety of building users. Many of the precautions put in place over the course of the pandemic will become permanent fixtures – or at least stay for some time to come – as there will be a move to return to the office before a complete roll-out of the vaccine. The return to work will require a slow adjustment with measures in place to prevent an outbreak. Temperature checks, social distancing and regular cleaning throughout the day will be ubiquitous. Many building managers are also implementing further measures such as one-way systems throughout the building. In the majority of cases, it has been impossible for organisations to trial these precautions with their buildings at full capacity. As such, we can expect to see much shifting and experimentation in building use over the coming months as the workforce returns. Buildings users will have to adapt, finding their feet in a still unpredictable environment. This adds pressure to the already challenging process of returning to an altered workplace, potentially having lost colleagues, and managing their own anxieties about the virus.
NEW SKILLS IN FRONT OF HOUSE
Front of house (FoH) team members will be at the centre of streamlining this process and offering reassurance to building users. They have worked on the frontline throughout the pandemic and have quickly adapted to each new precaution as it was introduced. The teams have already had many months to build new habits such as creating new customer journeys, using new technologies and enforcing social distancing. For those in the workforce who have largely avoided leaving our homes in recent months, workplace habits such as taking a familiar route to their desk or touching their face after touching a communal surface will be infinitely more difficult to break. FoH professionals are there to remind building users of how to stay protected and update them on all changes as precautions evolve.
A balance will need to be struck between enforcing measures and providing reassurance. The past months have been inordinately stressful for everyone and this can make it more difficult to remember elements such as changing precautions in the workplace. Ensuring the workforce follows these guidelines is vital to keep everyone safe. However, reminders to do so should be given in a sensitive and empathetic manner. FoH team members will need to be compassionate as well as communicative. This will be a fine line for FoH teams to tread but it has long fallen within their remit as first points of contact to demonstrate excellent people skills.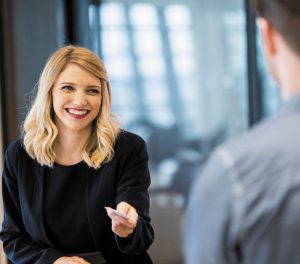 "Front of house" can cover an array of positions, not only those on the reception desk. Security officers also act as FoH and their role has been broadening for some years. As a first point of contact, they have long discarded the trope of being intimidating and unfriendly. A security officer's job is as much to welcome and reassure building users as it is to manage security risks. As such, they will be core in smoothing the return to the workplace. However, as a figure of authority, they can also be a target for some to vent frustrations. Stress can bring out the worst in people and it is hard to predict how one might react if turned away from a building for having a high temperature or not wearing a mask. In addition to aiding building users, officers will need to manage incidences with the same balance of firmness and sensitivity as other FoH team members.