Conor Logan, Technical Director at Colt explains why maintaining your smoke vents properly is so important
Smoke vents are a crucial part of a building's fire safety system and work in conjunction with other mechanisms such as smoke curtains and sprinklers to protect building occupants and the building's structure from damage or collapse. How do they do this, though? In this article, we will outline the basic function of smoke vents and how they work, as well as looking at best practices for maintaining them properly to ensure they do not fail in case of an emergency.
In the initial stages of a fire, temperatures tend to rise fairly slowly and consistently until they reach their 'flashover point' when the rise in heat rapidly accelerates. Due to the relatively slow temperature rise when a fire starts, very large amounts of smoke are usually produced in the first few minutes. Without any barriers to contain the smoke or an exit for it to escape the building, it can very quickly fill even a very large space, quickly incapacitating occupants. The limited visibility created by the smoke also makes it extremely difficult for firefighters to locate the seat of the fire to put it out quickly.
It is extremely important that firefighters reach the fire to put it out in the beginning stages when the temperatures are still manageable, because once a fire reaches its flashover point, the likelihood of rescuing any occupants, stock or indeed the building itself (depending on how large the blaze it), goes down considerably.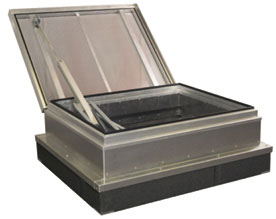 Smoke vents are instrumental in helping to keep escape routes clear and in allowing firefighters to reach the origin of the fire quickly, helping them to extinguish it faster which saves lives, stock and buildings.
HOW DO SMOKE VENTS WORK?
When a fire starts, AOVs (automatic opening vents) will be triggered when they sense smoke or heat in the building. This will cause them to open in either a roof vent or a window in the building's façade that will offer the gathering smoke a way out of the building. As well as effectively guiding smoke out of the building, AOVs also generally reduce the heat in the building, creating better conditions that enable a safer escape for any occupants in the building.
HOW SHOULD SMOKE VENTS BE MAINTAINED?
For life safety equipment such as smoke vents, the building operator/owner is required by law to provide a suitable system of maintenance to maintain the system in an efficient state, in efficient working order and in good repair.
New guidance on smoke control in multi-occupancy residential buildings has been issued by The Ministry of Housing, Communities & Local Government. The guidance stresses the importance of professional advice and building owners understanding of what type of smoke control system they have.
It also reminds building owners that 'Smoke control systems should be tested weekly by the building owner to ensure that they are operating effectively, with a full system inspection and test carried out by a suitably qualified person at least annually.'
The BS 7346-8 is the British Standard that gives recommendations for the planning, design, installation, commissioning and maintenance of smoke control systems, including smoke clearance, in and around buildings. It recommends that you get your smoke ventilation system checked once per year by a qualified engineer. It is your responsibility to check that contractors have the qualifications, accreditations and training to work in accordance with the regulations.
One of the biggest misconceptions that we see when servicing smoke vents is the misunderstanding that a smoke test is a full service – this is not the case. A successful smoke test will confirm that your system is working now, however, there may be elements within it that are not functioning properly or are reaching the end of their life. Regular servicing by qualified maintenance professionals is vital.
For your system to be properly tested and maintained, your service engineer should be conducting full motor resistance and load tests, checking the battery charge rates and identifying Cause and Effect of any failures and any impact of any failures.
Planned and regular maintenance can extend the life of your smoke vents, reducing the likelihood of downtime. A scheduled maintenance programme also allows your equipment to be updated in line with the latest technological advances and standards.
It is vital that smoke is efficiently removed from buildings for the following reasons:
♦ Smoke is comprised of components that can be lethal if inhaled. These components include:
Particles of burnt and partially burnt substances that can bypass the respiratory system's defences and enter the lungs.
Toxic gases such as carbon monoxide which can be deadly even in small quantities.
Vapours that are poisonous if inhaled.
♦ Fire can reduce oxygen levels in two ways. The first, by consuming the oxygen and the second, by displacing the oxygen with other gases, this is called Hypoxia.