Specialist warewashing company, Crystaltech, is leading the way in providing safe services to the UK healthcare industry by implementing a rigorous monthly testing scheme for its entire nationwide engineer workforce. All 60 Crystaltech engineers will be required to undertake a virus test every 28 days and will then be issued with a Covid 19 photo ID badge to show sensitive healthcare sites when they had the test and when the next one is due for renewal. This new assurance comes into place as the company has been asked to provide support to one of the largest care home providers in the UK.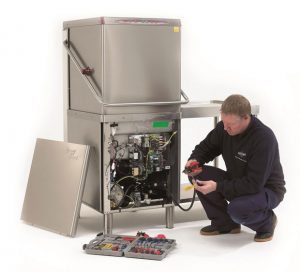 MD Derek Maher, commented, "Over the last few months our engineers have been working within strict safety guidelines when they have attended particularly sensitive sites including nursing homes, hospitals, public sector sites, supermarkets, MOD and production kitchens. Our monthly testing scheme will provide those sites with added assurances that all our engineers are working to the highest safety standards to prioritise the health and safety of those that they come into contact with."
Crystaltech is the only company in the UK to specialise in delivering a full maintenance and installation service for all makes and models of machine for sites across the UK mainland and the Isle of Wight. The company has the technical resource to detect the most obscure glass and dishwashing issues, enabling rapid solutions with impressive wash results. Crystaltech uses the latest, most reliable on-site test equipment which can detect bacteria from a specific water source.
For assistance please call the Crystaltech team on 0370 350 2424, email info@crystaltech.co.uk or visit www.crystaltech.co.uk
-ends-
To have your industry news published in the pages of FMJ's news section, Month in FM, and here online on fmj.co.uk, please send your news and image to Danny Grange danny.grange@kpmmedia.co.uk
The view or information contained within these unedited press releases, are that of the company producing it and not necessary the views of kpm.