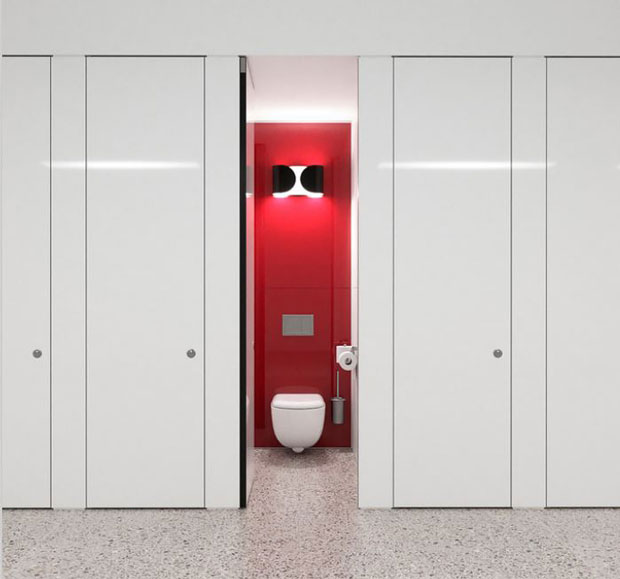 Movana is an inward opening door that can be opened outwards in 8 seconds in an emergency, the first of its kind.
Managing Director, Rolf McMullan said: "The issue of emergency access with inward opening doors has often been the elephant in the room for designers, architects and contractors. We wanted to provide a better solution than the existing 'make do' approach using way it has been approached up until now existing models which can be clunky or that almost certainly would require heavy lifting along with and cause damage to panels. The Movana range answers this with a perfect solution for emergency access without compromising on design. It is a result of many hundreds of hours in product development, focused on enabling full compliance with Doc-M guidance while maintaining luxury style in the washroom."
Inward opening doors have traditionally been the preferred choice for washrooms, however there is a key aspect to safety that has been difficult to justify…what happens if there is a medical emergency inside the cubicle?
In the UK there are more than 100,000 hospital admissions each year due to heart attacks: that's one every five minutes. If a person is having a heart attack in a toilet cubicle, (or any other medical emergency) it's critical to get them out quickly.
To comply with Doc-M safety law, all inward cubicle doors need emergency release mechanisms, so they can be opened outwards from the outside. But what this often means is a clunky, unsightly door handle or release, or a door that requires several people and tools to lift the door or break down. This is compliant to the barest minimum standard, but is neither ideal, elegant, or quick in an emergency and risks further injury to those inside.
The solution from Movana is a full height door that retains all the benefits of inward opening, but with an 8 second emergency release that sits flush with the door. A beautiful design, without compromising on safety. For interior designers, architects, and contractors this gives the peace of mind that your responsibility and compliance to Doc-M safety goes above the minimum and is of the highest standard.
Movana's key features:
Emergency access in 8 seconds
In an emergency, a coin, credit card or access card slots into the occupancy indicator, to twist it anti-clockwise out of the door and pull a cord that disengages the door stop. This allows the door to swing outwardly open. All within 8 seconds.
Premium concealed hinges
The concealed fall-to-close hinges maintain a completely uninterrupted surface to both sides of the door, with an integral soft-close device that enhances the washroom experience.
Latch-and-lock handle
A full-length vertical handle in brushed stainless steel adds a unique touch of class within the Movana cubicle, providing greater ease of use and foot operation if users prefer.
LED occupancy indicator
The occupancy indicator is tastefully styled in brushed stainless steel, and flashes red when the cubicle is occupied, providing a striking dimension to the washroom.
Luxury design
Full-height and made to measure, with 44mm thick hardwood lipped doors and 32mm thick division panels in a wide range of finishes.
For more information on the Movana range, go to www.maxwoodwashrooms.com/movana-washroom-cubicle
To book a private, Covid-safe visit to the Maxwood Washroom showroom in Clerkenwell, where you can view and test the Movana door, please email inspired@maxwoodwashrooms.com
-ends-
To have your industry news published in the pages of FMJ's news section, Month in FM, and here online on fmj.co.uk, please send your news and image to Danny Grange danny.grange@kpmmedia.co.uk
The view or information contained within these unedited press releases, are that of the company producing it and not necessary the views of kpm.