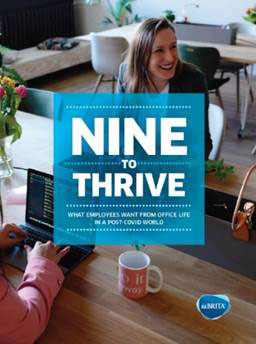 More than three quarters of nation looking forward to being back in the office
Research* conducted by global leading water filtration brand BRITA VIVREAU, has uncovered how our attitudes to office life have changed since the start of lockdown and more importantly, what we will be looking for in our working environment this year.
Working to make the office welcoming in 2021
The research revealed there are three fundamental priorities for people returning to office-based work, called the Three C's:
1. Clean and hygienic environment
81% say they are more concerned about office hygiene

 now than ever before.

Over a third (35%)

 say shared facilities with built in hygiene measures were of utmost importance.

Shared equipment is also under the spotlight

 with people placing a heavy focus on hygiene in those areas. People ranked bathrooms (60%), microwaves (55%), water dispensers (49%) and coffee machines (46%) as hygiene hotspots demanding extra precaution.

2. Comforting furnishings and surroundings to support your team's mental health and wellbeing

Workers are looking for office spaces to feel more like home (27%).
Ways in which workers would like to see their home life reflected in the work space would be the addition of better amenities and kitchen spaces (33%), better quality shared facilities such as water dispensers (29%) and some greenery (32%) – perhaps reminding us of our daily mandated hour outdoors during the first lockdown – plants are now seen as an important part of office décor.

Sofas were also seen as a vital part of the office landscape, according to 38% of those surveyed

 – recognizing the need to get away from your desk and feel more at ease from time to time.

Apart from socialising, one of the other key things we missed is the mental wellbeing support that is intrinsic to office life (according to almost a quarter of those surveyed – 24%), along with working in a team (42%) and the opportunity to work collaboratively (35%).
 3. Care for the planet
In terms of the planet, the pandemic has made many of us reassess our priorities; with less opportunity to travel and more time at home to focus on what matters. As such, 82% of respondents said sustainability was more important to them now than ever.

Nearly a quarter (24%) also want to see more sustainability initiatives

 to mitigate the impact of working in the office versus working from home, including banning single use plastic and introducing reusable bottles and cups – nearly half of the office workforce (49%) want to see this happen.
To help the transition from home working to some form of office working, BRITA VIVREAU has put together a return to office checklist to help businesses up and down the country make that change as smooth as possible:
The return to office checklist:
Introduce safe socialising opportunities
Make the office a home from home (with sofas, plants etc.)
Create a sustainable environment with reusable bottles and cups
Ensure work spaces and communal areas are thoroughly cleaned and hygienic
Introduce high-quality amenities such as high spec water dispensers
Speaking about the research results, Rebecca Fairfield, Head of Key Accounts at BRITA VIVREAU, said:"The research shows the importance of the office environment not only for socialising but also for our personal mental health and wellbeing. After a tumultuous year which saw the majority of office-based workers working from home, we're probably feeling the effects of remote working sometimes being too remote.
"It's the simple things we miss the most; one in five workers have missed having access to high-quality amenities such as tea, coffee and filtered water. While for others it's larger factors like sustainability, with one in 10 respondents missing working in a sustainably conscious environment.
"Whilst it's clear the nation is looking forward to being back in offices, going from working in your own space at home to being back in a professional office setting could potentially feel overwhelming for some people. Workers will be looking to their employers to ensure their office is safe and hygienic, prioritises sustainability and has high-quality amenities coupled with some of the comforts they've come accustomed to at home."
Offices can also download BRITA VIVREAU's new Nine to Thrive toolkit, containing further details on the research as well as advice for welcoming staff back to the workplace. Please find more through this link – http://bit.ly/NineToThrive
BRITA VIVREAU offers sustainable, mains-fed water dispensing solutions for modern offices. This year BRITA is launching a suite of new product innovations which incorporate the latest energy-saving and hygiene technology to help workplaces provide high-quality, sustainable and safe filtered water for employees.
*Research throughout was carried out 3GEM amongst 1,000 people living in the UK.
-ends-
To have your industry news published in the pages of FMJ's news section, Month in FM, and here online on fmj.co.uk, please send your news and image to Danny Grange danny.grange@kpmmedia.co.uk
The view or information contained within these unedited press releases, are that of the company producing it and not necessary the views of kpm.