SEPAWA® CONGRESS recognises the outstanding innovation of Solvay's Actizone™ F5, a 24-hour antimicrobial surface cleaning solution
Solvay has been awarded first place in the innovation award category by the SEPAWA® CONGRESS for its outstanding innovative development in the home and hygiene field, Actizone™ F5, announced during the virtual ceremony held on October 14, 2021.
This top award is particularly significant considering over 300 companies showcase their latest products, trends, and wide-ranging know-how at this annual event that brings together leading detergent, cosmetics, and fragrance professionals from across Europe.
"Developing a longer-lasting disinfectant cleaner that provides reliable antimicrobial benefits is one of the most notable challenges facing formulators today," explains Kamel Ramdani, research and innovation director at Solvay. "To ensure disinfectant cleaning products continue to kill microorganisms for 24 hours, formulators must use advanced know-how and ingredients in the development of these products."
The innovation award recognises Actizone™ F5, a ready-to-use disinfectant solution that has been developed using a Solvay proprietary long-lasting polymer, a state-of-the-art cleaning system, and industry-standard antimicrobial actives.
A patented technology, Actizone™ F5 provides a unique combination of fast-kill properties with 24-hour antimicrobial defence against bacteria and viruses, including the coronavirus, and unmatched cleaning experience.
"The launch of Actizone™ F5 comes at the right time when the world is facing the challenges and serious consequences originating from a global pandemic," says Oliver Hufer, general manager of Solvay Novecare's incubator. "Lasting antimicrobial and virus protection on hard surfaces will play a major role in the future to fight the transmission of infections and therefore protect people and save lives."
Actizone™ technology traps antimicrobial actives to form a protective film that offers 24 hours surface protection as the actives remain continuously available to kill bacteria and viruses as needed. Multipurpose disinfectant cleaners with Actizone™ technology provide users with long-lasting protection against bacteria and viruses, contributing to safer environments for all.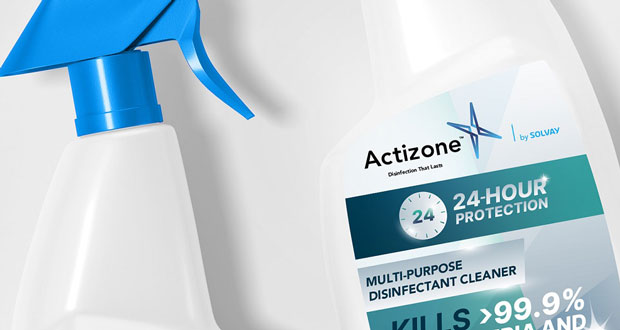 For more information about Actizone™ F5, contact our experts.
https://www.solvay.com/en/form/product-inquiry?gbu=novecare
-ends-
To have your industry news published in the pages of FMJ's news section, Month in FM, and here online on fmj.co.uk, please send your news and image to Danny Grange danny.grange@kpmmedia.co.uk
The view or information contained within these unedited press releases, are that of the company producing it and not necessary the views of kpm.