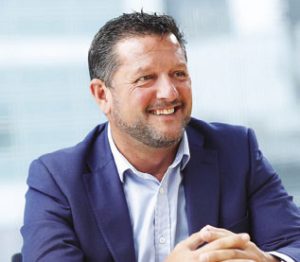 Bryan McLaggan, MD, Combined Technical Solutions (CTS) provides FMs with a guide to the ways engineering services can help in their drive for net zero carbon
As the UK economy ground to a halt in 2020 due to the COVID-19 pandemic, progress towards net zero gathered speed. According to the Department for Business, Energy & Industrial Strategy, year-on-year CO2 emissions nosedived by 11 per cent to the lowest levels for almost 150 years, a drop which also catapulted the country to the halfway stage on the journey to carbon neutrality by 2050.
Indeed, in 2020 total greenhouse gas emissions were 48.8 per cent lower than the 1990 baseline the government is using to measure net zero progress. However, it would be short-sighted to take these statistics at face value and assume that, because we are halfway there with roughly half of the time left to go, maintaining the current direction and speed of travel will get us to the end destination on time.
Firstly, last year's figures represent an unprecedented series of events that will not be sustained as economic activity recovers in the post-pandemic era. And second, as the economy and population continue to expand, so too will the UK's energy requirements across a whole host of areas, from transportation networks to the built environment.
The latter, for instance, is widely acknowledged to account for around 40 per cent of carbon emissions. New buildings are becoming more and more energy efficient, but it is predicted that 80 per cent of the buildings that will be in the UK in 2050 have already been built – this makes improving the performance of our current stock essential if net zero targets are to be met.
Here, the commercial sphere has a crucial role to play. There are 1,656,000 non-domestic buildings in England and Wales, which account for around 24 per cent of building stock emissions – a not insignificant proportion.
At Combined Technical Solutions (CTS), we have continued to move steadily to green and sustainable engineering practices. Our friend and industry colleague, Neil Fright, CEO of Carbon Numbers said: "CTS has long recognised the power of technology, but it is now embracing policy and behaviour change as two big levers in driving down carbon, and they are doing this in the most ethical and transparent way."
SIMPLE STEPS TO IMPROVE ENERGY PERFORMANCE
So, what can other companies and building managers do to maximise the energy performance of their premises? Of course, we realise that not every organisation has the fortune to move into a high-quality new build or retrofit sites to improve sustainability. Therefore, the following tips are simple steps which should be broadly attainable for most.
The first, although a very basic concept, is an essential pre-requisite to any serious strategy to improve a building's energy performance – measuring energy consumption.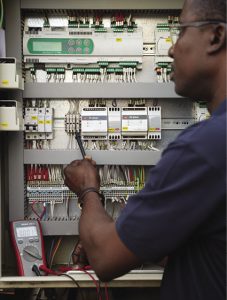 Organisations should begin by gaining a detailed understanding of where their inefficiencies arise. There is guidance for businesses looking to measure their greenhouse gas emissions, but it can also be useful to work with a specialist to benchmark your company and understand where improvements can be made.
Among the most common of these improvements, from our experience, is to properly insulate. Suboptimal building envelopes are notorious sources of energy loss, and insulation can help to address some of these inefficiencies.
The best time to inspect building insulation is during a heating or cooling season when the building's internal temperature is significantly different to that outside, when poorly insulated spots will become obvious. The extent to which you can improve insulation stretches across a large scale, from entire building retrofits to the simple installation of draft excluders. Typically, the more you invest, the better the return, but it is important to note that there are compromise solutions for sites without the budget to make drastic improvements.
Good insulation performance will also help to maximise the effectiveness of HVAC systems, which tend to be among a building's most significant consumer of energy. Regularly inspecting HVAC systems can help to unearth potential areas of inefficiency and energy loss. Common problems include system insulation, fan motors, pumps, valves, and electrical connections. Therefore, continuous maintenance may also help to avoid any significant issues and repair costs in the long-term.
Other changes involve looking at how employees use their work building. Here, occupancy monitoring through the installation of sensors and other data gathering tools can inform decisions on a raft of energy saving measures.
For example, sensors can automatically detect when rooms are occupied, meaning that lighting will be switched on only when needed. Other data can provide insights on peak building occupancy times, information which can underpin strategy on power and heating usage, as well as other services relating to the building.
Finally, it is critical to communicate to employees and explain the rationale behind any changes being implemented. This will help them to understand how they as individuals can contribute to creating a more sustainable workplace and align them to wider energy efficiency goals. Further, many will value efforts being made by their employer to become more environmentally responsible.
REAPING THE REWARDS
With COP26 taking place, organisations are increasingly being required to take steps to improve their sustainability credentials, with a failure to comply potentially leading to severe fines. Beyond the financial risk, however, there are a multitude of benefits on offer to enterprises which take steps to enhance the energy efficiency of their buildings.
Examining the financial aspect in more detail, there is a strong business case for making buildings more energy efficient, not least in the form of reduced energy and maintenance bills. Meanwhile, improvements to insulation and HVAC systems help create a healthier environment for building occupants due to temperate and indoor air quality enhancements. This in turn can lead to reductions in staff sickness, increased happiness and productivity gains.
The aforementioned tips represent just a handful of cost-effective and simple options that companies can adopt as a starting point to transforming the energy efficiency of their buildings.
As world leaders gather in Glasgow for COP26, the importance of decarbonising our built environment will once again come to the fore – by taking some of these steps, organisations can ensure they are playing their part in the UK's journey towards net zero.