Launching the only natural fibre, biodegradable wipe that is enclosed in 100% recyclable packaging; Aero Healthcare are once again leading the way for safety and the environment. First to solve a real–world need, the eco-friendly hand and surface wipes provide 99.99% protection against bacteria and viruses, including Coronavirus; whilst also enabling full eco-friendly disposal of both the wipe and packaging.
Made from compostable biodegradable fibres, Aero Healthcare's biodegradable wipes are tested to European Standard efficacies. Covering bactericidal, virucidal, fungicidal, chemical disinfectants and antiseptic abilities; the wipes provide a cost effective single solution for protecting employees and helping the environment, whilst not compromising on safety.
The new antimicrobial wipes are gently fragranced and impregnated with anti- bacterial and virucidal lotion to give exceptional and comprehensive protection. And with a yearly estimate of 11 billion wipes being used in the UK prior to the Covid-19 pandemic; the market need has increased exponentially in the past months.
The antibacterial and anti-viral hand and surface wipe is keenly priced, durable for wide-range use, and environmentally friendly; with Aero Healthcare combining their renowned quality with cost effective packages for all. Further purchase incentives are also evident, with the ecologically sound wipes enabling ethical business practices to adhere to their corporate social responsibility pledges and recycling goals.
Mark Gilmore, Managing Director of Aero Healthcare UK explained: "In the midst of never-before-imagined circumstances, organisations have an opportunity to set a positive course. More than ever, there is a need for an effective cleaning process at all times, not only for eliminating bacteria and virus', but also for reducing the risk of cross contamination."
He continued: "Disposable products are the most effective way to achieve this, but are not the most eco-friendly. With our biodegradable wipes there are no compromises on cleanliness, and they act positively to protect the environment."
Tailored to suit customer needs ranging from offices and catering through to construction and manufacturing,; the potential business gains are backed up with supply chain assurance. The ecologically sound biodegradable wipes compliment Aero Healthcare's extensive range of PPE products that include; AeroCleanse Sanitiser Disinfectant Spray, masks and diagnostic equipment.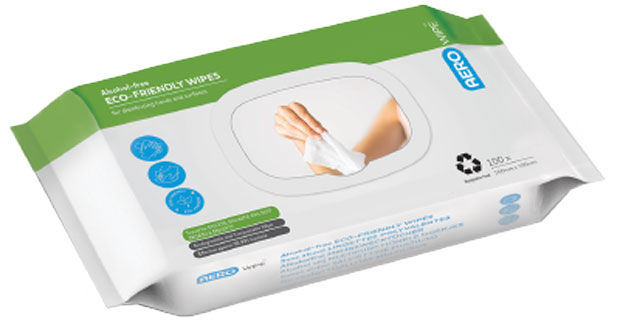 For more information on Aero Healthcare's biodegradable wipes go to https://marketing.aerohealthcare.co.uk/biodegradable-wipes-0, email sales@areohealthcare.co.uk or call 0845 604 8280.
And, to find out more about Aero Healthcare's extensive range of First Aid and Consumer Wound Care products, visit www.aerohealthcare.co.uk.
-ends-
To have your industry news published in the pages of FMJ's news section, Month in FM, and here online on fmj.co.uk, please send your news and image to Danny Grange danny.grange@kpmmedia.co.uk
The view or information contained within these unedited press releases, are that of the company producing it and not necessary the views of kpm.