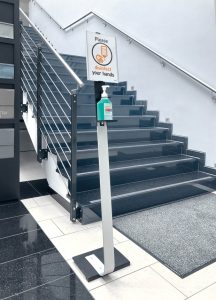 Robust floor-standing and wall-hanging disinfectant dispensers // use as sanitising stations // lever arm for hygienic use // flexible adjustment for bottles up to 500ml
There is a very real danger of infection when touching frequently used things. Even though workplaces and buildings with public access already have hygiene rules in place, to contain the pandemic, much greater precautions must be taken.
Standing by at any time
In entrance areas, communal areas, at counters and till points – wherever several people are active in the same space, germs can spread. Placing sanitising stations in these areas encourages people to disinfect their hands which is one of the most important ways to prevent viruses and bacteria spreading, literally, from hand to mouth.
DURABLE now offers robust disinfectant dispensers made of recyclable sheet steel and aluminium. The long lever arm makes them easy to operate hygienically with forearms or elbows. The size of the bottle compartment can be adjusted so bottles of different sizes can be used.
The floor stand is available with or without an integrated A4 information board and if you want a sign to encourage people to disinfect their hands, DURABLE provides free templates at webapp.duraprint.de, which can be printed out on your own printer.
Thanks to their high-quality workmanship, the dispensers are built for long-term use. Given that heightened hygiene requirements will be in place for some time, they offer the perfect solution.
For more information visit www.durable-uk.com
-ends-
To have your industry news published in the pages of FMJ's news section, Month in FM, and here online on fmj.co.uk, please send your news and image to Danny Grange danny.grange@kpmmedia.co.uk
The view or information contained within these unedited press releases, are that of the company producing it and not necessary the views of kpm.