From sustainable routes to work to eco delivery, can the humble bicycle play a part in making facilities management more sustainable? Andrew Brown reports
A new campaign was launched by the bicycle industry in early June: #BikeIsBest. Backed by the industry and piloted by Fusion Media it neatly argues that riding a bicycle is good for your mental and physical health, eases congestion and reduces CO2. It's a win for wellbeing and our environment. Bikes are one of the most sustainable modes of transport. So, it makes sense then for a service sector that touches the lives of almost everyone in one way or another to get on board the bike boom. But how do FMs get behind the bike revolution and how can bikes improve sustainability for the FM industry anyway?
There are two routes to how bikes can make a positive contribution to sustainability in FM. The most obvious is making it easier for people to choose to ride a bicycle to work – because it is not as straightforward as bike campaigners always think.
Vaida Stankute works for boutique FM provider Anabas as Head Concierge at one of Anabas's clients just off Regent Street. She's been cycling to work for the past three years. "I started cycling because it was good exercise. When you've got a busy job, it can be difficult to fit in exercise. Cycling allows me to keep fit and healthy while travelling to work.
FACILITIES ARE KEY
"We have really good facilities in the office – showers with toiletries, towels and even hair straighteners. They do everything they can to encourage people to run or cycle to work. There are also great bike storage facilities and lockers. If you don't have that, then that can be quite a barrier. I know people who want to cycle but don't because they can't have a shower afterwards in their building."
End of route facilities are critical – particularly if the idea of riding a bicycle is going to be attractive to people other than enthusiasts like Vaida Stankute. But finding the space and securing it from a landlord can be complex and expensive. There are security issues, ease of access and design too. It needs client commitment – from the owner/developer and FM too.
Luc Bonnici of end of route facilities provider Five at Hearts explains: "The challenges with existing building stock is working with small and irregular spaces, but there are smart ways to space-plan that can improve capacity without compromising on the user experience, and user-experience is paramount to a successful facility."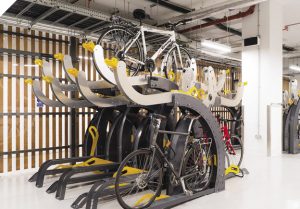 All of which is within an FM's remit and the innovation needed is what the sector prides itself on. So, why is there some reticence to engage with cycling?
"Developers and Asset Managers have typically been the earlier adopters as they see the commercial value of providing their tenants with high-quality bike and change room facilities," says Bonnici. "In the last few years, this portion of the building – the wellness space – has gone from a back-of-house feature to one of the main features that agents use to lure and retain occupiers: It's very competitive amongst the real estate players so they see the value in getting this space right."
COVID DRIVEN DEMAND
There's a commercial advantage for FMs to use cycling to deliver sustainability in the form of wellness, not just low carbon gains. But despite what Five at Heart argue, this can be a hard box to tick even before COVID-19 and its consequences.
Breda Smead, Operations Director, SmartSec Solutions has seen a 30 per cent increase in demand for cycle racks and typically car park spaces that are being used for external bike parking.
She says, "Some people will want to drive to work to avoid public transport, that's going to put more pressure on the facilities manager who typically oversees this area. It's going to mean they need new processes to manage this scarce resource in a transparent and fair way. Many of the buildings we support have closed their shower facilities because their risk assessments require them to sterilise or deep clean them between use and this is seen as impractical. Organisations need to be careful how they position additional cycle racks. Bike theft can be an issue depending on the access and egress from the building. If shutters are particularly slow or on a delayed timer a thief can be in and out by the time the shutter closes."
Bonnici has the answer: "Go digital. Use things like access control and digital locks for kit lockers. Demand for bike spaces and lockers is always shifting and going digital offers FM's the control to adapt and manage the amenities as needed. From a tenant perspective, they have a better user-experience if they can operate / access using their swipe cards or even their phones."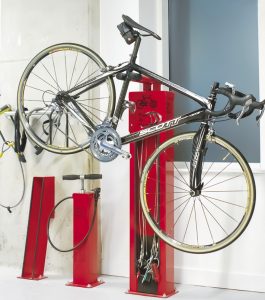 There are plenty of options and suppliers like CyclePods, Turvec, Green Roof Shelters and Cycle Works to name a few. You just need to find the space and specify accordingly. However, the issue of dealing with parking pressure is paramount. Do you create space for bikes by taking it from car parking? COVID-19 might (nobody knows yet) conceivably increase commuting by car and some FMs are concerned about parking pressure because their sites' parking was already experiencing excess demand at peak on weekdays, pre-COVID. Many of them will need to reallocate parking space from car to bicycle. This takes cojones in many settings, but it is the sensible thing to do in terms of making best use of space – after all 10 to 20 bikes can fit in the place of one car. It is unbeatable. So, on a site, FMs are experiencing the same space (road) reallocation issues as highways engineers in local authorities. What is important is for the right solution to be found by facilities teams working alongside HR.
"It is an HR and wellbeing issue, but they need the FM team to assist in setting up the facility and usually managing it," says John Garrard of Incentive FM. "It needs to be a directive from the employer, and they must be happy to pick up the costs for this. If there is a desire for the employees to cycle to work this can be advertised using posters or websites to advertise the fact. We offer a cycle to work scheme which has good uptake, but the staff rarely use the bikes to travel to work."
Vaida Stankute: "Confidence is an issue. People are scared to cycle in London because of the traffic and potential accidents. You always hear scary stories. I tell them that you get used to it and you're fine so long as you're careful. It's a bit like being a pedestrian. Just because there's a green light, it doesn't mean you don't look around and double-check. You have to do that as a cyclist."
What can FMs do about this? Simon Venn, Mitie's Chief Government and Strategy Officer, argues the Government must do more to provide safe infrastructure, which means barriers and protection not just paint.
"One way the Dutch responded to the 1973 oil crisis was to invest in cycling infrastructure to guarantee their people could keep moving if fuel for cars ran out. It was not the main factor, but it played a part in kick starting the cycling revolution across the country and helped create the bicycle culture The Netherlands has now," he explains. "The Dutch attitude is about functionality. The bike is a utilitarian transport method. We can drive that change here to combat the climate crisis and as a response to COVID-19 if the government use it as an opportunity to put the infrastructure in place."
Tagged with: bicycles bikes eco delivery electric assisted cargo bikes sustainability transport