Aladdin EasyFit isolators are a British designed and built live pipe isolation valve.
This valve range has a primary application in maintenance, offering serious cost savings in labour and materials.
The innovative Aladdin EasyFit Isolator is a full-bore WRAS-approved quarter-turn valve, which can be fitted in less than 3 minutes to a live pipe carrying hot or cold water, 16-bar rated.
This enables it to be installed into pressurised pipes in minutes using a standard 18v battery drill and the tools provided in the Aladdin EasyFit Isolator starter pack. Two Aladdin EasyFit Isolators can be used to isolate upstream and downstream flow in any desired section of an existing system, preventing the need to pipe freeze or drain.
Aladdin EasyFit Isolators are a unique patented design which clamps externally to a live pressurised pipe using our dual seal technology, cutting away an internal section of pipe, sealing in between the cut away sections and around the separated pipe sections, allowing for a full-flow quarter turn isolation valve to be installed into live hot or cold pressurised pipe in minutes (this is NOT a saddle valve)
Watch our "See how it works" video to see this amazing valve in action.
Cooling and draining down a commercial system can take a whole day before intended work can commence, plus a similar time to re-commission. Aladdin EasyFit Isolators can cut this to a minimum, meaning projects can be completed in hours, leading to increased client satisfaction and significant cost savings.
Aladdin EasyFit Isolator is quickly becoming the go to valve for general maintenance and emergency isolation.
It is far too common for an engineer to attend a site and find no isolation point or that the existing isolation point is either seized or is passing – this then results in the whole building requiring isolation, either by the attending engineer or waiting for a local water authority engineer to shut off supply.
Take out the labour intensity, water wastage and costly inhibitors by using the Aladdin EasyFit isolation valves, allowing for an isolation point to be fitted in no time at all, hot or cold flowing water isolated in under 3-minutes. This unique valve is WRAS approved as a stopcock, therefore should your stopcock fail, by fitting an EasyFit Isolator this allows for the existing stopcock to be replaced or left in the open position.
Aladdin EasyFit Isolators allow you to break into a live pressurised pipe and isolate anywhere in a system, suitable up to 16-Bar, 85°C. Available to fit 15mm, 22mm, 28mm and imperial Copper and Plastic pipes. Aladdin products have just launched The Aladdin EasyFit Isolator Pro 15 for imperial ½" and external applications.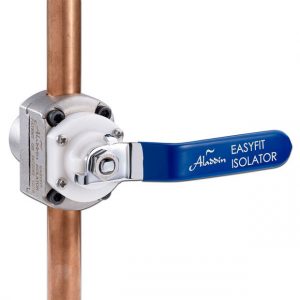 All Aladdin EasyFit Isolators come with a 10-year warranty.
IN CONCLUSION
When to use Aladdin EasyFit Isolators?
As an emergency shut-off valve for leaking or burst pipework.
As an emergency isolator where the stopcock is seized or inaccessible.
To isolate a heating system for component maintenance.
To save time on cooling, draining down, refilling, and commissioning.
Where freezing is required, 'no need to freeze' Aladdin EasyFit Isolators save time with no disruption to other services.
As a convenience device in multi-occupancy buildings (schools, universities, hospitals, care homes, hotels, pubs, leisure facilities, and HMO's) anywhere water supply needs to be worked on without inconveniencing other users.
Where isolation is required for any water feed hot or cold up-to 16bar.
As a green alternative, particularly to gas-freezing.
To allow isolation in areas of a building where none exists.
To allow maintenance to TMV's.
To allow installs of baths, showers, and vessels without shutting off supply to other areas of a building.
As a replacement for the existing stopcock – Aladdin EasyFit Isolators are WRAS-approved stopcocks, eliminating the need for a return visit.
Aladdin EasyFit Isolators can be sourced via all merchants, independents and nationals. To fit 15mm, 22mm and 28mm EN and BS standard metric and imperial copper and plastic pipes. Should your preferred local merchant not already stock our products we would be happy to work with them to set this up for you.
For further information visit www.aladdin-products.co.uk or email admin@nlbengineering.co.uk or follow us on Facebook, Twitter and Instagram for updates, announcements and competitions.
-ends-
To have your industry news published in the pages of FMJ's news section, Month in FM, and here online on fmj.co.uk, please send your news and image to Danny Grange danny.grange@kpmmedia.co.uk
The view or information contained within these unedited press releases, are that of the company producing it and not necessary the views of kpm.