Matt Coulson, CEO Chiswick Park Enjoy-Work, describes a range of app-enabled solutions which aim to enhance levels of employee engagement and back-to-work efforts across the business campus' 12 buildings
With 1.8 million sq ft of award-winning office space and 33 acres of landscaped open space gardens, Chiswick Park, located in the heart of West London, is a benchmark for business campuses around the world.
Integral to its success is the belief that supporting and engaging individuals first is the key to productive and engaged employees. Happy people are more committed, more creative, and more productive. Therefore, it is important to have a workplace that stimulates and refreshes its occupants, encourages them to work harder, stay longer and have better ideas.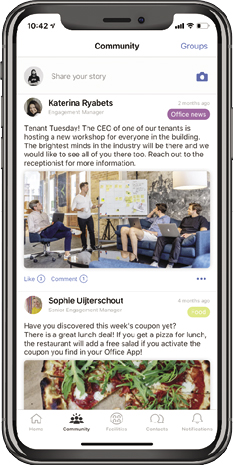 Enjoy-Work is the property management company for Chiswick Park, which not only keeps the campus safe, secure and in pristine condition, but also offers a programme of events and initiatives to keep occupiers, or guests as we call them, engaged and productive.
With the advent of the global pandemic it has become clear that many employees will be splitting their time between the office and home. Therefore, it is essential to have robust and engaging digital platforms and experiences in place so we can connect with our guests whether they are working on the campus or from home.
ENJOY-WORK APP
To bolster the campus experience for guests, we have launched a new Enjoy-Work app platform in partnership with tenant experience specialists, Office App.
Amsterdam-based tech company, Office App provides over 76 modular app functionalities and has already integrated with over 52 product partners to be able to offer a full suite of amenities services to maximise adoption and optimise tenant engagement. The partnership will enable Chiswick Park to create a digital community experience and offer a wider range of services, on top of events, clubs, and workshops all through the app platform.
Says Ikenna Nweke UK & Ireland Head of Sales at Office App: "As the world's most advanced integrated tenant experience platform, we relished the opportunity to partner with Chiswick Park Enjoy-Work. Their core values and passion for customer service echo that of our own and this partnership means that the 10,000 guests at Chiswick Park will reap those benefits for some time to come."
Launching in September 2020, the app platform will be the ultimate tool to make our guests' experience at Chiswick Park the best one possible, through a series of features designed to create an integrated digital community and integrate with the physical campus.
The community feature allows individual guests to post a story to engage with the campus community wherever they may be. There is also the opportunity to book and pay for onsite services directly from the app platform, which alleviates the need to exchange cash and gives our guests a holistic overview of what additional services we offer. These range from an onsite nail salon and barber to a valet service and physiotherapist.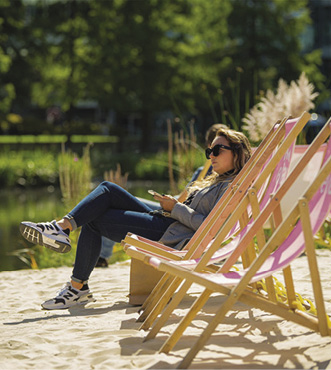 QUALITY OF LIFE
In a recent survey, we found that 53 per cent of guests will change the way they travel to work due to the COVID-19 pandemic. Therefore, we have improved our bike facilities and added several new bike storage units and service stations. We have also expanded the range of bikes that we offer on the campus. On the app, guests will be able to hire a bike for a couple of days or even five days to support their 'new normal' commute.
There are a host of events, workshops, and clubs that the guests can RSVP via the app, whether they are events taking place onsite or online. Plus, there is an 'on the go' library with key documents such as our social distancing and hygiene policy, Health & Safety protocols, and our events programme, to ensure our guests have all key information at their fingertips wherever they are.