Saul Huxley, Organic Development Director at grounds maintenance and landscape creation specialists, idverde explains how carbon-neutral clauses can benefit the environment
With greater pressures on Councils, retail parks and business spaces to create more sustainable, climate-friendly gains, there has been a growth in what is known as carbon-neutral contracts. But in practical terms what are these types of contracts and how do they impact the traditionally carbon-intensive world of FM?
In basic terms, these types of contracts place the emphasis on the supplier to achieve the specifications of a contract – from grounds maintenance, through to building works – whilst reducing CO2 emissions and compensating for any unavoidable CO2 that is produced. That can mean a supplier has to first invest in, for example, electrical machinery or utilise solar power; potentially then offsetting any remaining unavoidable CO2 emissions with certified Carbon Credits that are used against verified projects which remove, reduce or prevent carbon emissions.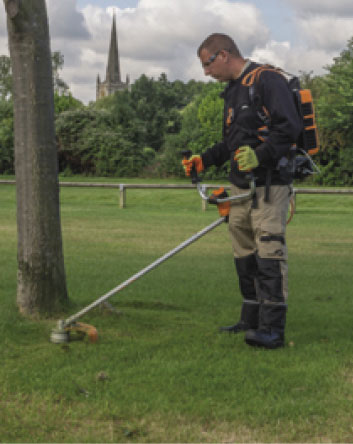 Carbon-neutral contracts can vary significantly in terms of size, which also has a profound impact on the results. If you employed two people to maintain a single courtyard on a small boulevard of shops without carbon impacts, this is easy to achieve as the scale is so small. In contrast, idverde was recently awarded a contract by Warwick District Council, which will see the authority's street cleansing and ground maintenance work become carbon neutral by 2025. This covers 28 sq. km of public spaces and parks – representing one of the largest contracts of its type within the UK.
CREATING CLAUSES
Contracts within the public procurement realm have for a long time contained components that exceed the direct work itself, for example, creating clauses around community investments or the revitalisation of public spaces, which in many ways paved the ways for carbon-neutral clauses. Recent strategies focused on CSR and longer-term sustainable outcomes have created a new operating environment for many businesses. Many organisations, both public and private, have, of course, adopted green policies that make quick and easy gains such as switching to a renewable energy contract, investing in less energy-intensive lighting, better recycling policies, new insulation methods etc. However, once we go beyond the easy wins, new climate-friendly gains can be harder to find.
To achieve these next stage carbon reductions, frequently an organisation will have to look beyond its own 'hands-on' operations. As if sitting at the centre of a wheel, surrounded by interlinked spokes, organisations can (particularly during procurement phases) directly influence stakeholders and create impactful climate-friendly outcomes with suppliers, such as with carbon-neutral contracts.
MEASUREMENT
How do you measure the results of these contracts, to ensure environmental targets are actually hit? In the UK, The Greenhouse Gas Protocol's Corporate Standard provides a framework and methodologies for calculating emissions for both government agencies and companies. idverde uses this standard to calculate a contract's carbon footprint and reports its emissions as part of the Government's Streamlined Energy and Carbon Reporting scheme (SECR). This process provides independent third-party validation of the results, giving confidence that the measurements are accurate and complete.
MUTUAL BENEFITS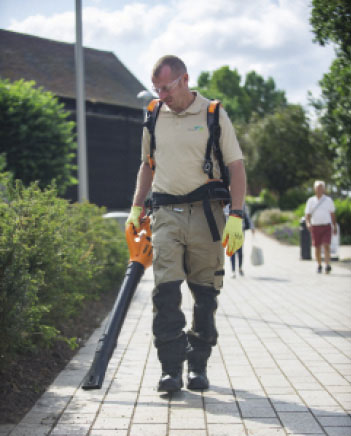 The carbon reductions achieved by these types of contracts can be very significant. By way of example, idverde expects carbon reductions for Warwick District Council to be in the region of 160 tonnes each year – and that does not include further reductions throughout the supply chain.
For the contractor, who would normally be taking on much of the heavy lifting, contracts would typically be longer and achieve a secured income to offset against investment in electrification and zero-emission assets.
HOW CAN CARBON NEUTRALITY BE ACHIEVED?
In the grounds maintenance sector, the rise of new battery-powered equipment – from manufacturers like Stihl, Husqvarna, Mean Green, Pellenc and Bosch – allows for public and green spaces to be managed without traditional petrol motors. We are also utilising technology to produce results based on need rather than frequency and rotas. The technology to take this leap forward is, in many cases, already here, it is just not widely adopted. We can use low emission vehicles, GPS mapping, drone site inspections, robotic mowers, laser cutting, alternative weed control and AI that offer preventative actions based on footfall and actual requirements – all of which play a part in carbon reductions.
For example, we have been using, with great success, battery-powered robotic mowers in closed London parks for some time. Quietly, efficiently going about our work as residents sleep. It is these small steps that help achieve carbon reductions.
How quickly will these technologies become commonplace? Change normally comes in small doses and requires innovation and bravery on the partners involved. It is worth remembering that currently, the cost of a tradition diesel ride-on mower is around £18k, while an electric version can be as much as £60k. This is why long-term partnerships, via carbon-neutral contracts, can be so beneficial to all, allowing investment with the security of a long-term contract.
THE FUTURE
As a land-based industry, so much of our impact on local and global environments is entwined with the power of our equipment. By placing carbon neutrality at its core, businesses can create partnerships that provide mutual benefits but also that benefit the community and the environment.
We would expect to see the continued expansion of carbon-neutral contracts beyond our own sector and by expanding these changes to all sectors, the ripples of combining business and sustainability would be far-reaching.