It's a sense of community that breeds success in recruiting and retaining hospitality staff, says Claire Huish MCIPD, Colleague Services Manager, Bennett Hay
The great resignation – 'hospitality worker shortfall' – 'agile working' and even 'get back to the office'. With headlines like these we, a caterer and hospitality provider, should be in a precarious situation in terms of recruitment and retention if the headlines are anything to go by. 
However, the reality is we've navigated the long two-year crossing to a new landscape with new rules and new outlooks. We've looked, listened, and learned and we intend 2022 to be our sixth year in the noted Best Places to Work in Hospitality.
We see our people as the DNA of our brand; each person is unique and when every individual is brought together, they create a force, synergy and energy to be reckoned with. A decade on since we started in business, we continue to strive to create an irreplicable atmosphere. Much like any community we change and adapt to the environments we are in and around the people we reach.
BUILD, ENGAGE AND SUSTAIN
To help build, engage and sustain such a sense of unity, we partnered with a networking professional, Susie Cery, who has demonstrable experience in creating thriving online communities and driving engagement. She is now recognised across the business as our Happiness Officer and has driven our online and face-to-face community to ensure regularity and measurement in our internal communications. We also appreciate the value and voice of the entire team and have empowered our people at every level of the organisation to share news of their site, their team, industry know-how, their personal stories and learnings.
Engendering this sense of kinship has resulted in long service from our team and, even when the pandemic was at its peak, we were a trusted resource and support network. Like many of our clients' businesses we migrated online for some months and through technology, with Susie Cery on hand having also created a programme to help some workers who were sadly subject to outplacement.
We recognise individuality and the power of an individual's presence and encourage learning and development at every level, whether it's a first jobber looking for a break into the sector or a supervisor looking to develop their management skills and commercial ownership.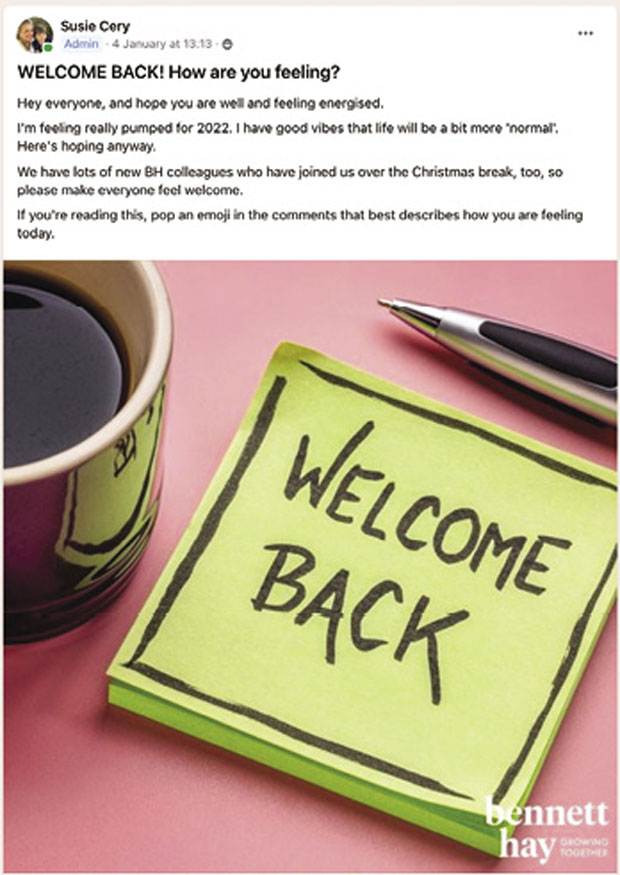 RECRUITMENT DRIVES
A key strategy is in employing best personality fit for our organisation while ensuring we've built an organisation rich in cultures and diversity. This considered strategy has cultivated ambassadorship amongst our people, helping us attract yet more like-minded people into our community.
Flexibility is also a key watchword for us, and we try our hardest to accommodate employees' new expectation, however, we must never lose sight that our role is to provide exemplary in-person service.
A realistic salary, an entrepreneurial outlook to our business and the ability to be heard has proven a winning formula and helped drive employee satisfaction and longevity, as highlighted in our most recent Best Places to Work in Hospitality survey.
We don't just recognise our people through monetary means – we've awards and an annual ceremony to celebrate our community and its champions. We also have benefits that can be flexed to suit individual tastes and likes such as a health plan for our people and their dependents – providing financial contributions towards eye tests, dental appointments, physiotherapy as well as other alternative therapies, and access to mental and financial counselling. We also provide access to gym memberships and retail and travel discounts.
We also know that having a purpose as an organisation is a key differentiator to employees and we are proud of the efforts we make to reuse, recycle and reduce, while using a local supply chain and the season's harvests.
In a game changing chapter we have navigated the austere headlines associated with the hospitality industry by our steadfast commitment to our team and our community of colleagues. 2022 is a new landscape for us all as we exit Plan B and entertain new scenarios that need innovation and flexibility and a team who are hungry for new challenges and who relish a new outlook.