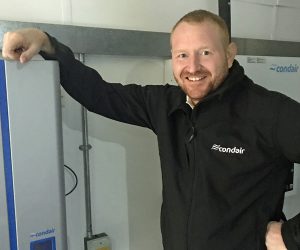 Condair has expanded its service team and further strengthened its support for customers in the North of England with the appointment of Daniel Kirk, based out of West Yorkshire.
Daniel is an extremely experienced HVAC technician having worked on both humidifiers and dehumidifiers at SPIE UK, AMS and Newsome.
Tony Tullett, service manager at Condair, commented, "We are delighted to welcome such an experienced service engineer to our Condair team. Particularly as Daniel is not only skilled in service and maintenance of our product technologies but he also brings with him valuable installation knowledge. He is a great addition to what is already the UK's largest specialist humidity control engineering team. His appointment takes the number of Condair service engineers to 18, spread strategically across the UK. No matter where our clients are controlling their humidity, Condair is well positioned to support them and deliver the manufacturer's engineering knowledge on-site."
The Condair Group is the world's leading specialist in humidification, dehumidification and evaporative cooling, with energy efficient, hygienic and innovative technologies for commercial, industrial and heritage applications. Condair is represented in the UK by Condair plc, which offers system design, manufacture, supply, installation, commissioning, maintenance and spares.
You can find out more by visiting the company's website at www.condair.co.uk or by emailing uk.sales@condair.com
-ends-
To have your industry news published in the pages of FMJ's news section, Month in FM, and here online on fmj.co.uk, please send your news and image to Danny Grange danny.grange@kpmmedia.co.uk
The view or information contained within these unedited press releases, are that of the company producing it and not necessary the views of kpm.