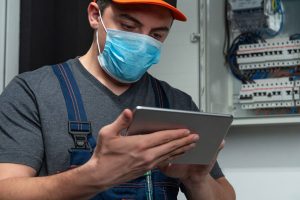 The Concept Evolution range of facilities, workplace and workforce management solutions from FSI employ a 'contactless first' approach, ensuring the safety and wellbeing of employees, facilities staff, and contractors.
Contractors can use their own devices for checking-in upon arrival at site rather than the on-site touch screen kiosk.
Geo-fencing technology confirms their proof of attendance, and once approved, relevant induction processes, health check surveys, and the tasks to be carried out are released to their device for completion.
With the digital permit to work system fully integrated into the process, you are assured that only qualified and validated personnel can carry out the work. The importance of adherence to correct PPE and hazard awareness is also highlighted.
Maximising the effectiveness of the contractor visit is very important. Pre-visit questionnaires and detailed requirements of work can be completed prior to attendance at site. Real-time verification that work has been successfully completed minimises additional unnecessary return visits, reducing exposure and contact.
Continuing with workforce optimisation, safe routes and a contactless checkpoint for cleaning staff can be created. As the cleaner carries out their duties, they can "check-in" within range of specified locations and immediately receive tasks. This not only reduces cost but also minimises unnecessary physical contact.
For employees returning to the workplace, even regular office routines are now a cause for concern. Via a scheduling assistant, staff can check availability and book a short time slot for their personal use of such facilities, to avoid congregating. These on-demand services also instigate cleaning tasks based upon usage, acknowledging necessary health and safety practices whilst increasing resource productivity.
Employee confidence is a main consideration in returning a business to its workplace. With the Concept Advantage suite of workplace apps, an organisation can digitally communicate their work to ensure the facilities are safe to visit. The apps also provide a focal point for users to raise any concerns they may have. Issues can be assessed, and actions relayed back to the business, providing reassurance of the continual improvement taking place.
Ensure safety and wellbeing with contactless workplace solutions from FSI.
For more information visit www.fsifm.com
-ends-
To have your industry news published in the pages of FMJ's news section, Month in FM, and here online on fmj.co.uk, please send your news and image to Danny Grange danny.grange@kpmmedia.co.uk
The view or information contained within these unedited press releases, are that of the company producing it and not necessary the views of kpm.