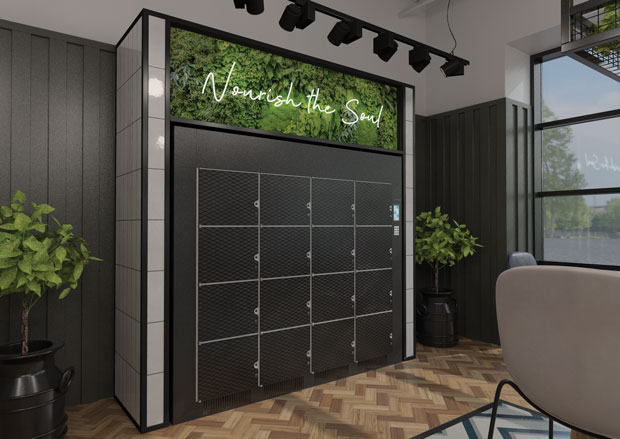 Leading the way in digital food technology, Pre Order Pods Ltd launches its heated and chilled pods – available to the UK hospitality market for the first time.
Designed to be individually adjusted from 2 °C to +70 °C, the bespoke units allow for contract caterers to prepare and deliver freshly made hot and cold meals to their customers any time, day or night.
Although the business was founded prior to the Coronavirus outbreak on a passionate belief that everyone should have access to nutritional food, regardless of their working hours or environment, the pods are activated via an in-built QR code scanner. This means customers can order meals simply, quickly and, most importantly, safely – imperative in the current Covid-19 landscape.
Through the use of cutting-edge technology, which provides a contactless catering solution, the pods are designed to operate in any location and integrate with a range of mobile catering applications. In addition, the thermoelectric technology is almost silent because cooling units have no moving parts – making them ideal for dining spaces, factories, offices and meeting rooms.
Catherine Briely, Founder and CEO of Pre Order Pods Ltd comments: "Customers have come to expect an efficient and safe service in every environment they encounter. In the hospitality sector, technology is now playing a vital role in the success of delivering this, through the combination of pre-ordered time slots, pre-payment technology and convenient delivery options.
"Our goal is to support catering teams across all sectors; healthcare, education, business & industry and leisure, to create site-specific pod models to improve customers engagement and have a positive impact on their overall health and wellbeing."
Amongst its client base, Pre Order Pods Ltd is currently supporting the NHS Trust to provide a long term, out-of-hours catering solution for its dedicated staff.
Discover more at www.preorderpods.co.uk
-ends-
To have your industry news published in the pages of FMJ's news section, Month in FM, and here online on fmj.co.uk, please send your news and image to Danny Grange danny.grange@kpmmedia.co.uk
The view or information contained within these unedited press releases, are that of the company producing it and not necessary the views of kpm.