Mark Scott, Head of Managed Services at Keysource tells Sara Bean why taking an FM approach to managing data centres brought huge benefits to a major city Police Service
The COVID -19 crisis has led organisations to look at ways of managing a dispersed workforce remotely, while equipping buildings with the technology needed to monitor capacity and maintain social distancing. As a result, the role of data centres in looking after IT systems is more important than ever. Data centres need to offer a highly secure and scalable infrastructure to house critical IT systems, ensuring technology resilience is maintained and the information contained is fully protected.
But aside from housing and managing the data, says Mark Scott, Head of Managed Services at data centre specialist Keysource, there are huge benefits in using a multi-skilled and highly trained workforce to help run these centres. "Where we add value, is that along with an IT 'Smart hands ' service, which is traditionally run by an IT provider – we are also able to provide the facilities management capability. In addition, we complete the service requirement by bringing in other skills such as health and safety, construction and commercial as a one stop shop."
Scott and his team have been working closely with a major city police force for over five years. The force's critical IT systems support services such as emergency service communications which handle an average of 6,000 emergency 999 and 15,000 non-emergency calls every day.
Keysource was engaged initially to manage the force's two critical data centres as part of its strategic transformation programme, but have gone on to support the evaluation, design, and delivery for several additional IT and technical requirements. The force's traditional IT estate was located in four data centres, strategically placed around a major city and before Keysource took over they'd moved to two data centres further afield which, as was common, were designed for way more space and power than they needed.
Says Scott: "I've worked globally in data centres, and every single one you walk into, when you overlay the service requirement to the capability and operation, there is so much that can be improved. With our service and support, we have worked effortlessly as one team, building on our credibility to improve security and availability, reduce cost & risk, and significantly influence their sustainability credentials."
Aside from the tech knowhow says Scott, relationship building is an important part of a supplier/client success, which is why, when he joined Keysource he developed the skill sets of the team to take a problem solving, customer facing approach.
"In my team, when we are interviewing for different roles, someone may apply for a specific role, but we are more interested in what they enjoy doing and what they don't. This is because, being a multi-skilled team, we can offer varied roles which results in people who feel good about what they do and invariably do a better job.
"Our goal with our people is to help them find that niche job, as they'll grow into certain areas and be happy to come to work because they enjoy what they do. As a result, of the 22 people in the team and the four seconded we have insignificant sick and attrition rates as our people are happy to come to work."
ENERGY MANAGEMENT
One of the key challenges of running a data centre is in ensuring business continuity. This includes managing the amount of power it can draw on to maintain resilience. A recent report, Mission Critical: Power resilience, competitiveness and sustainability in European Data Centres; found that more than half (55 per cent) of those surveyed expressed at least some concern about the capabilities of their local grid and energy infrastructure's ability to meet current energy demand.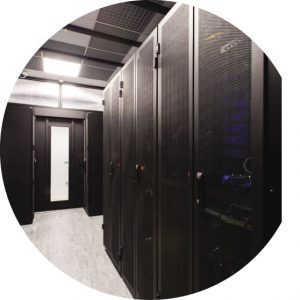 Energy management is one of the reasons why a data centre's PUE (Power Usage Efficiency) is so critical, not only to reduce energy costs but help ensure data resilience. PUE is an international standard that measures the ratio of the energy used by the IT equipment to the energy used by the entire data centre.
Explains Scott: "You want to get the PUE number as low as you possibly can, and while five years ago datacentres were running at a PUE of up to 7.0, they're now running at around 1.5. This means older data centres may not be that efficient."
The relationship with the Police Service began with a Smart Hands technical support service for online support. But explains Scott: "When I realised our client had a dispersed infrastructure, many in old stations, I wanted to try and understand more about what they had in place and offer them a service to help streamline the rest of their estate.
"This resulted in our carrying out a range of projects with them and winning an additional contract to manage their technical equipment rooms."